PITC International Women's Day Conference 2023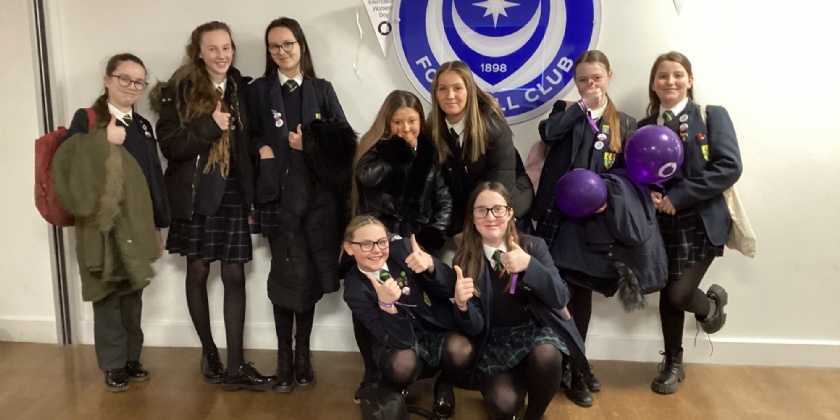 Last week, ten girls from Years 7 and 8 had the opportunity to attend a conference at Fratton Park to mark International Women's Day 2023. The conference, organised by Pompey in the Community, saw girls from Years 6 to 10 from a number of local schools come together in celebration of the social, economic, cultural and political achievements of women worldwide.
The day included a range of interactive activities and workshops and a question-and-answer panel. A wide range of women took part in the event, many of whom are working in traditionally male-dominated roles, from police officers and firefighters, to football players, senior HR, a former magistrate, a charity boss and more. Our students asked some excellent questions of the panel of speakers, mixed well with the girls from other schools and impressed with how confident they were to independently approach several of the guests afterwards.
A special mention must go to Osha whose conversation with the Pompey Women's Chairperson may well mean that the girls get to return to Fratton Park to watch a match some time soon – well done Osha and watch this space!
Here's what the students had to say:
"My favourite part was the workshops, especially the blindfolded challenge that focused on working with others. I enjoyed the end of the day as well as it was a great opportunity to ask questions to women who have been successful in their job role and some are in male dominated workplaces". - Tabitha
"My best bit of the day was meeting very important people and asking them lots of questions". - Layla-Mai
"At the International Women's Day event, the thing I enjoyed most was the activities we did with other schools like the drawing task where we had to communicate without skin-to-skin contact or speech, as it built trust in the other partner and made us have to adapt to make the other draw the correct image". - Elana
"My favourite things were the workshops, such as where we had to work together to untie ourselves, and talking to people about their jobs. I also liked the freebies!". - Daisy
Our thanks go to Pompey in the Community for having us and to the girls who fully embraced the opportunity and represented Crookhorn College so well.