RS trip to Winchester cathedral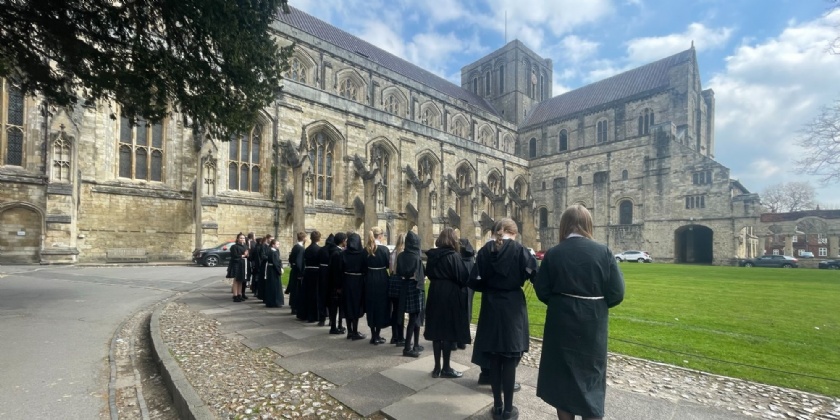 On Wednesday 19th April, 44 students from Year 7 & 8 went on the RS trip to Winchester Cathedral.
They started the day with a fabulous question and answer session with Rev Lynn. The students could ask any question they wanted and grilled Rev Lynn on many topics asking questions such as:
What is it like being a Christian?
What do you do as a priest?
Does God have a certain gender?
Can you be gay and a priest?
Have you ever had a numinous experience?
The students then had two different sessions, one was a guided tour of the Cathedral, learning about its importance in history and in Christianity, including links to the dissolution of the monasteries and Henry 8th. The students also got to go down to the crypt and view the sculpture by Anthony Gormley, learning about the geography of the land the Cathedral is built on and the issues that causes.
The other session focused on learning about the lives of the monks, who used to live in the Cathedral. The students dressed as monks, went into the Cathedral to experience how the monks lived, as well as learning the sign language that the monks used to keep up their vow of silence and still be able to communicate.
As always, our students behaved impeccably, asking brilliant questions and appreciating and respecting this impressive place of worship.
Student Comments:
"The trip was an insightful and extremely incredible experience to have been privileged enough to have taken part in. When on the tour of the Cathedral I was in my element, eager to gain exclusive information and observing amazing historical marvels. The history behind this Cathedral is outstanding and I very much enjoyed the trip." - Annabel, Year 8
"I really enjoyed learning about the history of the Cathedral, especially the facts about the monks and what happened during the English Civil War. The Monk's Workshop was amazing and I found the tour very enlightening. My favourite part was the stained-glass window and its story." - Ivy Year 7