College Closure
Click here for more information
13th May 2020

Dear Parents and Carers
I thought I would write with an update to you following the Government announcements over the last few days with regards to the plans for easing lockdown, including plans for some students to return to school prior to the summer break.
In summary, the Government is suggesting that Reception, Year 1 and Year 6 may return to school on June 1st and currently it is only an 'ambition' that those year groups who have exams next year, which for us would be the Year 10's, may possibly get some 'school face time' before the end of this academic year. There is a strong indication that secondary schools are likely to remain closed until at least September. There is no further guidance at the moment on what the reopening of secondary schools will look like at this time or what measures need to be in place for this to happen, such as for example, the partial return for different year groups.
For the time being, the Government is asking secondary schools to remain open (as is the case now) for the children of critical workers and eligible vulnerable children. From the week commencing 1st June 2020, secondary schools are also being asked to plan an offer of some face-to-face support before the end of the summer term to supplement the remote education of year 10 students. The Government has been clear that this does not indicate a return to full timetables or Year 10 students back in the College full time.
In line with implementing protective measures and reducing contacts, schools are being asked to consider in their plans, limits to the attendance of the Year 10 cohort in the setting at any one time and to follow guidance on social distancing and other health and safety measures. As and when further details are clarified by the Government I will be able to write to you with greater certainty about what this provision will look like.
I am sure that as parents and carers, you will appreciate that this remains a complex and rapidly changing situation for all stakeholders to manage. However, I wanted to take this opportunity to reassure families that we are closely monitoring and reviewing all information that is being published for educational settings in order for us to design the most effective support for our students both on and off-site.
Most importantly, we must ensure that we minimise any risk to individual members of the College community – staff, students, parents, carers and visitors alike. As the Government quite rightly states, any potential action plan moving forward will rely on the 'R' value – the reproduction rate of COVID-19. Any increase will, of course, result in lockdown measures being tightened immediately.
We are very much looking forward to welcoming students back to the College as soon as it is safe to do so. In the meantime, we must and will continue full steam ahead with the remote learning.
With kind regards

Mrs S. Bennett
Headteacher

---

7th May 2020
Dear Year 11
Over the last few weeks, we have mainly been focussed on ensuring that each and every one of you has secured a College place or an apprenticeship and had contact from your chosen College. I know many of you have been in contact with Mrs Wilson and accepted help with getting your applications completed and the subsequent confirmation of your places. We are continuing to prioritise this and are delighted that so many of you are now set for September.
I have been in contact with the Principal of Havant South Downs College (HSDC) today to discuss the steps we can take from this point to help ensure the strongest transition process possible. It is important for you to know that we are endeavouring to work in close partnership with as many of the FE Colleges as possible to enable a successful process.
In my conversation with the Principal of HSDC we discussed the importance of A level and vocational students accessing the Keeping in Touch pack which is now up on the HSDC website and can also be accessed from the link below:
https://www.hsdc.ac.uk/getting-ahead/
For each course, there is now a pack of resources with some suggested activities to help you prepare for the start of your Year 12 studies. Having looked at both vocational and A level packs, these do look like an excellent way to start preparing yourself for your future course and a great way to build your resilience with online learning. Please do make sure that you are now taking the time to access these resources if you have applied to this College. We will be following up with you to see how you are doing with this over the next couple of weeks.
Crookhorn and HSDC are also looking at how we will be supporting the transition of students who have SEN profiles and any other particular needs so that the learning needs and differentiated requirements of students are known to their new teachers in Year 12 before the start of the term.
I have also gone through with HSDC the rigorous process we have undertaken at the College with regards to the grades we are submitting to the exam boards for each of your subjects and the evidence we have to support that grade. As and when the results come back from the exam boards, following the process outlined by OFQUAL, we will be in a strong position to liaise with Colleges to support your applications for the courses you have applied for.
If you have applied to another FE College or apprenticeship provider, we will be endeavouring to have the same level of contact and we will also signpost you to any prior learning packs as and when we become aware of them. In the meantime, please continue to utilise the resources on the links below connected with your chosen area of study going forward.
https://www.open.edu/openlearn/free-courses/full-catalogue
As educators across the secondary and further education sectors what we need you to do right now is hold on to your self-belief. Remember as I said to you before, COVID 19 may have taken the opportunity from you to complete Year 11 with your exams and all the celebrations that normally are part and parcel of this and that is a bitter pill to swallow. However, COVID 19 cannot take all your knowledge and learning that you have acquired over the last five years. It cannot take all the ways in which you have developed successfully from a child into a young adult, and it cannot strip you of all your success to date.
Each of you has a lot to be proud of and the personal unique journey you have undertaken to date. This is but a small part of your life, and one that providing you keep that self-belief, you will come out of stronger and more determined especially in relation to how you want your future to look.
We remain alongside you and I reiterate any concerns you have please be in contact through the keepintouch email. You can also contact Mrs Wilson via itslearning if you have any individual questions about your post 16 option plans.
- Mrs Bennett
---


22nd April 2020

I hope you are all keeping well. At the start of the new term, the Pastoral Team and tutors continue to work hard to support all students. Working alongside the subject teachers, we will continue to check in with all students via Its Learning on a weekly basis. Please could you encourage your child or children to respond to the message sent with a quick update on how they are doing and how their learning is? This gives us the opportunity to respond to any particular individual issues or concerns your child may have as quickly as possible.
As a parent, if you have any concerns about your child's overall welfare or learning please do not hesitate to contact their Head of House, the contact details for which are below:
Arundel – michaela.bishop@crookhorn.hants.sch.uk
Goodwood – carl.taylor@crookhorn.hants.sch.uk
Petworth – samuel.mcginley@crookhorn.hants.sch.uk
Romsey – matthew.carver@crookhorn.hants.sch.uk
Dave Lemon (Assistant Headteacher – Pastoral) dave.lemon@crookhorn.hants.sch.uk
We continue to advise that all students keep in contact with their class teachers via 'itslearning' message system, if they need further guidance on any of the tasks. If you have a child with additional needs who is struggling to access their work, then please do contact either Natalie Hope (Assistant Headteacher – SEN and Student Support) or Nicola Smith (Assistant SENCO) on the following email addresses: natalie.hope@crookhorn.hants.sch.uk and nicola.smith@crookhorn.hants.sch.uk.
It is vitally important that you encourage a good routine for your child, although they are not actually attending College. For example, during the week follow a set time when your child will go to bed and a set time to wake up. This will help to keep them in a routine and a good mindset for completing their lessons. Additionally, make sure that they are eating healthily and keeping well hydrated, which aids the brain in concentrating. If they are struggling to focus on classwork perhaps, include some reward time at the end of the day, once tasks are complete, by doing an activity they like. They can also take a break after each task, to refocus their mind, rather than spending 2 hours on activities. It is important that your child's mind is staying active and alert during this time, but we also recognise the importance of having some 'down' time. Here is a link to a video provided by MADE (the self-study skills company that work with all our students during the course of each academic year) which might help with establishing a good work routine: https://crookhorncollege.itslearning.com/LearningToolElement/ViewLearningToolElement.aspx?LearningToolElementId=240978
It is also very important for students to keep in contact with their friends at this difficult time and it is very likely that most of them are using phones to text, video and share messages with one another, which is great. However, please do check that they are being responsible online. Promote positive and kind interactions with one another and discourage any form of negative interaction. Please urge them to stay safe, be wise and exercise good online behaviour.
Keep well and stay safe
---
16th April 2020
Dear Parents / Carers
We would like to welcome you back to the start of the summer term and the return to remote learning as the country remains in lockdown for at least another three weeks. The two weeks of remote learning at the start of the lockdown were a vertical learning curve for all of us; teachers, students and parents. Based on feedback we have received from parents following the parent mail on the 6.4.20 and from students, we have been working hard with our teachers to adapt our teaching provision, through the resources used and amount of work set to try and ensure that we can successfully engage as many students as possible in virtual learning.
Over the next three weeks, students should be set work on a lesson by lesson basis which they should complete on the day when they would normally have that lesson. We have requested to teachers that these lessons are no more than 30 minutes long, with clear instructions as to the intended learning outcomes, tasks that students need to complete to embed the learning and how to share the work with the teacher so that the teacher can check the understanding of the student.
We have also guided teachers to focus on the overlearning of previous topics and to work on key vocabulary with students as this is an ideal opportunity for students to really secure their knowledge and understanding of key topics already taught in class. Within this overlearning teachers have been told to look for opportunities to potentially introduce some new learning, which builds on this previous knowledge. This will be particularly the case for Year 10 students.
One of the most important steps you can take as a parent on Monday morning is to re- establish a good strong routine with your child. In the Parentmail of the 6.4.20 we outlined some simple steps to help you and your child achieve this. These steps are recapped below:
When logging on itslearning, first check your messages and respond to any that need a response. There are some important messages on there from teachers and tutors so this is important.
Click on the 'home page'
Click on 'updates tab'
Click on 'overdue tasks' first and work through them. Once you have completed those, then work on the lessons for today.
Have a copy of your timetable in front of you so you can work through the lessons you would normally have on that day and tick off lessons as you complete them online.
When a task or assignment has been set, it is key to read and follow all the instructions step by step.
If it is set up as an assignment, you must click on the green button that is marked 'answer assignment' to complete your work.
If you are asked to do the work in your book take a photo of the work and submit it to the teacher. Attached to this email is the guide again as to how to do this.
Over the next three weeks, our real aim is to see the student's confidence grow with online learning and working independently. We also want to see students being proactive in asking teachers via the 'itslearning' messaging system or e-mail if they require further support.
Please do not hesitate yourselves, if you want further support by emailing us on keepintouch@croohorn.hants.sch.uk or admin@crookhorn.hants.sch.uk
We hope you are all staying safe and well and we do know that we will get through this and the College will re-open and it will be our absolute delight to welcome your children back to us to continue their learning journeys.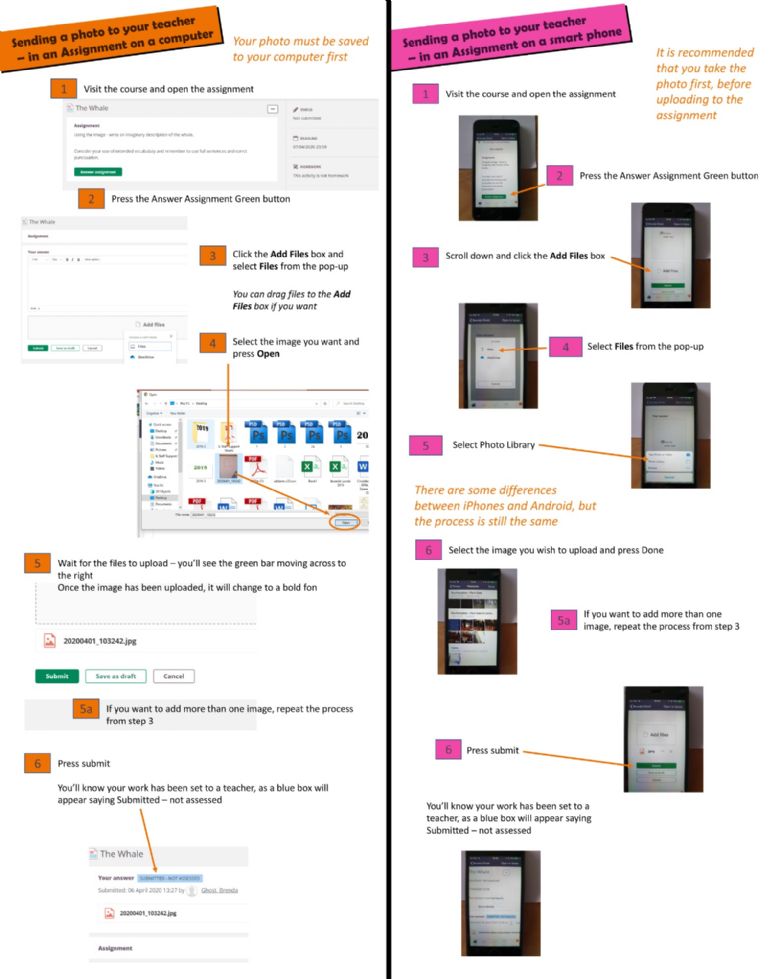 ---

1st April 2020
As you are aware, Year 11 students and schools are faced with unique circumstances in relation to the awarding of GCSE grades this year. As we know, normal routines and ways of working are no longer applicable this year in what has become an unprecedented time in terms of education and wider society.
At the time of writing, it is not at all clear how the Government will navigate awarding grades to Year 11 students, although they have been unequivocal in stating that all GCSE examinations this year have been cancelled. The Government or more specifically the Department for Education (DfE) will 'ensure GCSE students are awarded a grade which fairly reflects the work that they have put in'. They have also said that Ofqual 'will develop and set out a process that will provide a calculated grade to each student which reflects their performance as fairly as possible.'
As teachers, we are being asked by the DfE to take into account a range of evidence and data (including mock results and non-examined assessments) in order to award these 'calculated grades'. There is no guidance though as of yet about the coursework or non-examined assessments (NEA's) and how this will work. Exam boards may ask for the coursework or NEA's to help them with their final grading. At this stage we do not want to take any risks, so we are asking students who have been taking the subjects on the table below to complete their coursework. This coursework must be handed in to their class teacher via itslearning and teachers will be liaising with students directly.
Parents can track any updated news on https://www.gov.uk/government/organisations/department-for-education and we will post again once any further information is forthcoming.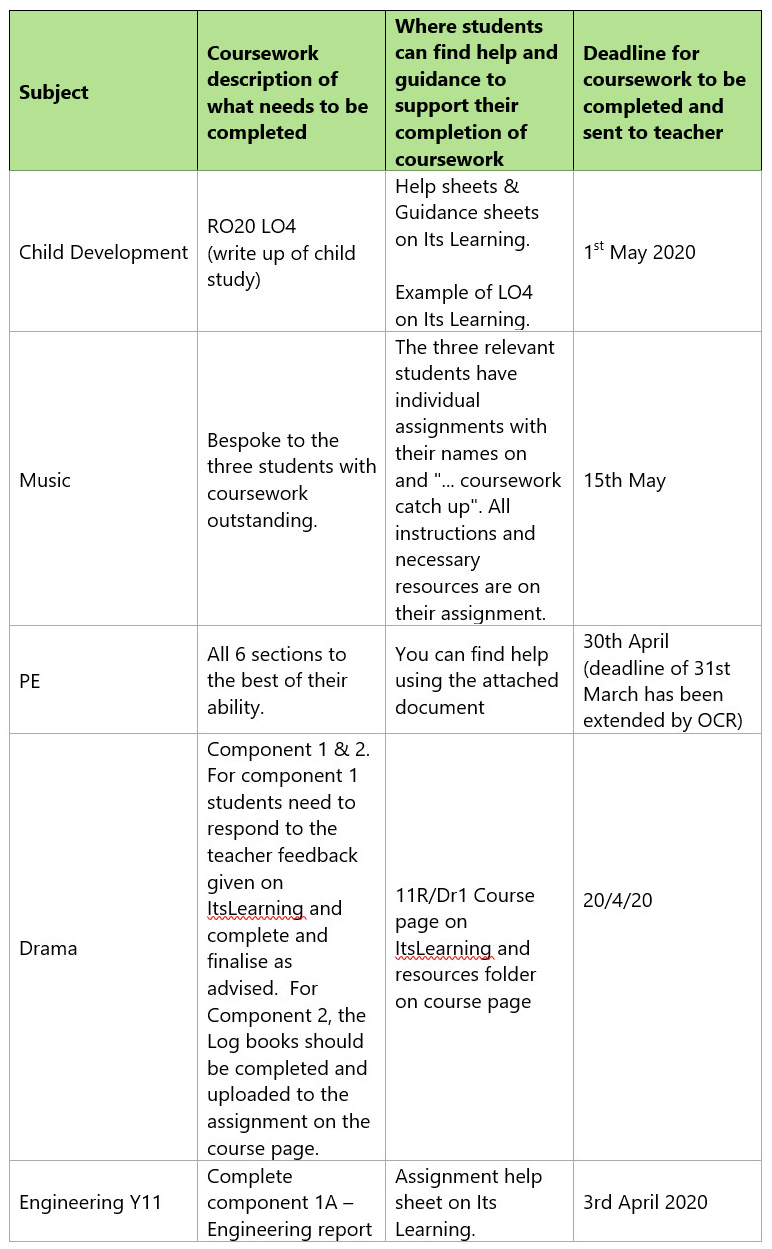 ---
31st March 2020
We are now into the second week of students learning at home. Our teachers are telling us that they have seen some great examples of where students are completing the tasks they have been set. However, we do have a concern that some students haven't yet sent work to their teachers for checking. We would ask that you do the following things to ensure that the work is getting back to teachers.
Step 1. Check that your child is accessing the work set.
All the work set by teachers is on the college itslearning platform that can be accessed through an internet browser on a computer/laptop/tablet or your child's phone. Each of your child's teachers will have a 'Course page' for their subject. On this page, the students will have access to resources that are found in a folder called 'Keep up'. This is where the teachers will be setting work each week.
What you can do each day:
Ask your child to show you the course pages on itslearning for the subjects they have on their college timetable for that day. Their timetable should be in their planner – please contact admin@crookhorn.hants.sch.uk if your child does not have access to their planner.
Ask them what tasks they are meant to complete for each subject as they do it, encourage them to think about things such as presentation and the quality of any writing they are being asked to do.
Encourage them to show you the finished work as they complete it. Ask them how they know it is a good piece of work?
Step 2. Check that your child is sending work back to their teachers to be checked.
There are several ways that your child will be asked to send work back to their teachers through the itslearning platform. Our teachers are being encouraged to set work as 'assignments' that your child can directly respond to by sending either pictures of the work they have done in their exercise book or by uploading electronic documents they have completed. They may be set tests or quizzes to complete or referred to online resources like 'Mathswatch' which they complete on-line.
What you can do each day:
Ask your child to show you how their teachers have asked for them to send their work in. (this should be clear in the instructions the teacher has given them) If they are not sure, suggest that they message the teacher through the itslearning messaging system.
Ask your child to show you what work they have completed for each of the subjects they have done during the day.
Praise your child for work you have seen they have completed.
Encourage your child to store/save any work in a way that they will be able to go back to it when they next do work from that subject.
If your child has work that they want their teacher to see and they have no other way to do this it is possible to send the pictures of work via the itslearning messaging system.
---
24th March 2020

Dear Parents/Carers
I wrote to you at the end of last week to say that we would be in regular communication over the coming weeks on how we can support parents with the online learning your children will be doing. I want to start by saying that with the many millions of children starting online learning, this has obviously led to a surge of demand on the internet and learning platforms which has slowed down all systems. I understand as a parent myself how frustrating this can be and I would ask you to remain as patient as possible and bear with the systems as the companies work on building up their capabilities. Hopefully, as things begin to settle, 'ItsLearning' will increase their system speeds and all our children will be able to access the materials that are needed.
Due to these online problems, I am sending out with this Parentmail an English and maths booklet for Year 7, 8 and 9. This can be done straight into exercise books or onto paper and you won't need to access ItsLearning to do this work. You can use any websites to support them doing this study such as corbettmaths.com or BBC bitesize. Children can work through these at their own pace and can message their teacher through itslearning if they struggle. As we go through the coming weeks, we will be regularly updating you on our online and offline provision so all students can continue on with their learning journey.
Your child's Tutor will also be in regular contact (if they are fit and well) to find out how your child is doing and to offer any help they can. Please do look out for this message on itslearning at the end of the week. On Thursday we will write to you again with some ideas about how to support your child when they are requested by staff to use the internet to do research.
For many of our parents with students in Year 11 and Year 10, this is an extremely worrying time about how the GCSE grades will be awarded. On 20th March the government published the following guidance regarding the cancellation of exams this summer.
https://www.gov.uk/government/publications/coronavirus-covid-19-cancellation-of-gcses-as-and-a-levels-in-2020/coronavirus-covid-19-cancellation-of-gcses-as-and-a-levels-in-2020. We would recommend Year 11 and 10 students and parents read this guidance as it answers several of the questions we all have regarding how grades will be awarded.
As the guidance states, the GCSE results will be calculated on a number of factors, with teacher predictions being one of these factors. Students who do not feel their calculated grade reflects their performance will have the opportunity to sit an exam, as soon as is reasonably possible after schools and colleges open again. We will do our utmost to make sure the grades awarded are fair and what the students deserve and we will update parents and students as soon as we get further clarification. There is still the slight possibility that coursework and controlled assessment tasks as they stand will need to be moderated so if this is requested from a teacher do please make sure this is completed and sent through.
However, we would thoroughly recommend students in Year 11 to maintain good study and learning habits over the next few months in preparation for the next stage of their education, whether that be 'A' levels, college courses, apprenticeships or training. We would encourage students to research their new courses, read around the subject(s) and make use of free online resources. If we need anything from students, we will contact the parents and students affected as a matter of urgency. As far as we know, results day for students is still Thursday 20th August 2020. However, there has been some discussion although nothing definite about this date being brought forward to July. As soon as we have more information we will let you know.
The College remains open to those children of key workers and students who are deemed to be vulnerable. We are also open to those families who want to come in and collect exercise books for their children between 10am and 2pm. Please only come into the College if you are not self-isolating and showing no symptoms.
As ever, if you have any questions at all about teaching and learning, please do contact either James Collins (Deputy Headteacher) james.collins@crookhorn.hants.sch.uk or Chris Potts (Assistant Headteacher) chris.potts@crookhorn.hants.sch.uk who will get back to you as quickly as possible.
---
20th March 2020
Dear Parents and Carers
One of our key priorities over the coming weeks is to ensure that all of our students will be able to continue learning whilst they are not in College. Over this period of uncertainty, we will write to parents on a regular basis with advice and guidance on how to ensure your child continues their learning journey at this difficult time.
Your child has brought home their exercise books with them and the expectation is that work will be completed in these books unless they are asked specifically to complete tasks online. Student tasks will be set on 'itslearning' where every subject has its own course page which your child can access. The work in each subject course page will be set in a folder called 'Keep up' and all the materials and resources that your child will need can be found in this folder. You will find this folder in the 'resources' tab on each course page. The work set will be updated regularly by our teaching staff.
'Itslearning' can be accessed via the internet on any connected device e.g Smartphone/tablet/laptop. There will be a range of different learning tasks for students to complete which might involve watching educational videos and then answering questions, access to other online providers and completing online worksheets. Your child has also been given access to other websites which are being used for their online learning. If you can't access these when at home, please ask your child to message their subject teacher via the 'itslearning' messaging service. We have had advice from 'Itslearning' that due to the large volume of traffic on the site, it might be slower than usual and especially over the next week, so please show patience and persevere if your child has any problems accessing or logging in.
There are many other excellent educational websites which can be accessed for free at this stage which will complement your child's learning. BBC bitesize https://www.bbc.co.uk/bitesize and twinkle https://www.twinkl.co.uk/resources/keystage3-ks3-teachers-toolbox/homework-help-revision-packs-teacher-toolbox-secondary/school-closure-support-free-taster-packs-ks3-ks4 are excellent to assist your child's independent learning.
Routines can give children a sense of organisation, stability, and comfort. That, in turn, should help develop better behaviour at home and a sense of personal control, especially in teenagers. Routines not only have emotional benefits but health benefits as well so please keep up good routines with your children during any isolation at home. Please do not hesitate to contact the College through admin@crookhorn.hants.sch.uk if you have any questions or concerns about your child's access to their online materials.
---
19th March 2020
Dear Parents and Carers
As you will be aware from my previous communications to you, the College had previously been working hard in preparing for a potential school closure by ensuring work is available on 'its learning' for your child to access. Now that school closures have been enforced, learning for the majority of our students will now be conducted remotely through its learning. If you believe your child may have difficulties or is unable to access work during the College closure period then please contact us on 02392 251 120 or admin@crookhorn.hants.sch.uk.
It is understandable that some students will find this an anxious and unsettling period of time and therefore it is important for them to maintain a routine as close as possible to a usual working week; getting up and dressed by a certain time, having meals at certain times, having dedicated learning time and allowing time for physical exercise. We will be sending more advice out on a regular basis each week to support students and parents with remote study to make it as effective as possible.
On Thursday we ensured that all Year 8's who were in College left the site in the afternoon with all their exercise books. Year 7 were also issued with theirs too. Today we will go through the same process with Years 9, 10 and 11, so all students will have their exercise books. If you have a child who is currently having to self-isolate, their books can be collected from College once the period of self-isolation has been completed.
I want to take this opportunity to say how proud I was of the students on Thursday and the manner in which they are dealing with the current situation and recognising the importance of their learning over the coming weeks.
For many families, this is a particularly difficult time. I am aware that some of you are under extreme pressure managing the demands of family life and balancing this with the challenges of employment. We will continue to do all we can to work in partnership with you and can I remind you or your child of the KeepInTouch@crookhorn.hants.sch.uk email if you require further support.
Mrs S Bennett
Headteacher
---
Further to the guidance we sent out last night, the DfE has published two new documents with important information for schools.
The first is guidance for schools which sets out the definition of key workers.
The second is guidance for parents.
---
18th March 2020
Dear Parents and Carers
Following the Government announcement this evening, the College will be closed from 3.10pm on Friday 20th March 2020 until further notice.
A provision for those children of key workers ie NHS, Police, Social Care and delivery drivers and for children who are Looked After, have a social worker or are subject to an EHCP. If you require this provision please email admin@crookhorn.hants.sch.uk no later than midday on Friday 20th March. Notification of the provision available will be confirmed to you later on Friday afternoon.
Over the next two days, the plan remains in place that was communicated to all parents earlier today in that Year 9 will not be required to attend College on Thursday 19th March 2020 but should return on Friday 20th March 2020 and Year 8 will not be required to attend College on Friday 20th March 2020.
All students who will be at home for the coming period of time should access their work via 'it's learning'. All teaching staff will be working remotely to ensure work is uploaded and relevant to consolidating the knowledge and skills acquired so far this year.
Over the next two days, students will be given their exercise books to bring home with them to aid with their study and the work set on 'it's learning'. For Year 9 who are not in the College tomorrow, the College will ensure they have them by the end of the day on Friday.
For students currently not attending due to illness or self-isolation please contact the College via admin@crookhorn.hants.sch.uk and we can advise you on arrangements for these to be collected as and when they are able to.
I would like to take this opportunity to thank all parents for their support so far during these extraordinary times. We will continue to update you with further details and work in partnership to the benefit of all the community.
Mrs S Bennett
Headteacher