May 2018 Blog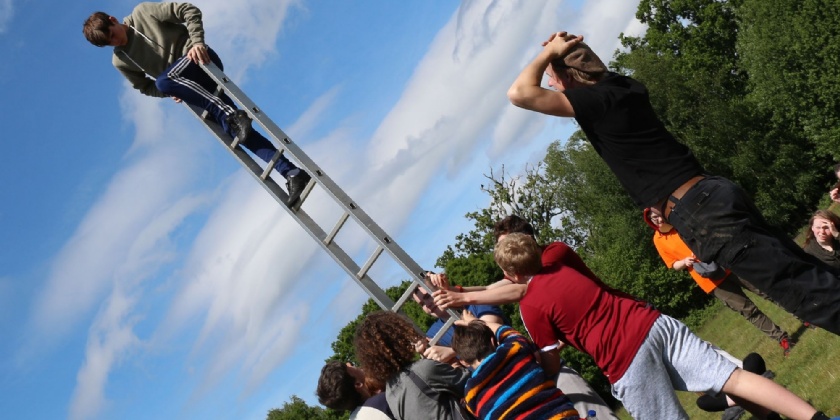 You would be hard placed to know it was the half term break, as the College is full of activity, mainly that of Year 11 who have been in for most days participating in a variety of revision classes. The day I am here it happens to be English revision going on, and the students are all grateful for the extra input the teachers can provide. With the exam season well underway, the half term always provides a welcome breathing space amidst the churn of what can seem like relentless exam sessions in either the Sports Hall or the Main Hall. So far, the students have stood up to the pressure extremely well, and I am delighted with how many of them have come in over half term, to really focus on their revision. I would like to express my thanks as well to the teachers, who have been prepared to come in and deliver sometimes whole day sessions to students, to get them prepared in the best way possible.
Now it would be easy to assume that during May and June, all we focus on is Year 11 and the exams, but this could not be further from the truth. During the course of May, there have been a significant number of events that have been full of enrichment and opportunity for the students of different year groups. For example, I was privileged to sit on the Enterprise project judging team for the first time and listen to the presentations made from each House about the projects they have been working on throughout the year. I was so impressed with the vision of some of the teams as they really did think big, but I was equally impressed with the teams who had gone for smaller scale projects, which have the practicality to be implemented at the College with minimum cost (always going to be popular at this time!). The teamwork within each project was also pleasing to see, and how each person had had a specific role to do that contributed to the overall plan. Well done to all Houses, but yes, you really do need to wait until the final assembly to find out which House has won the Enterprise Cup.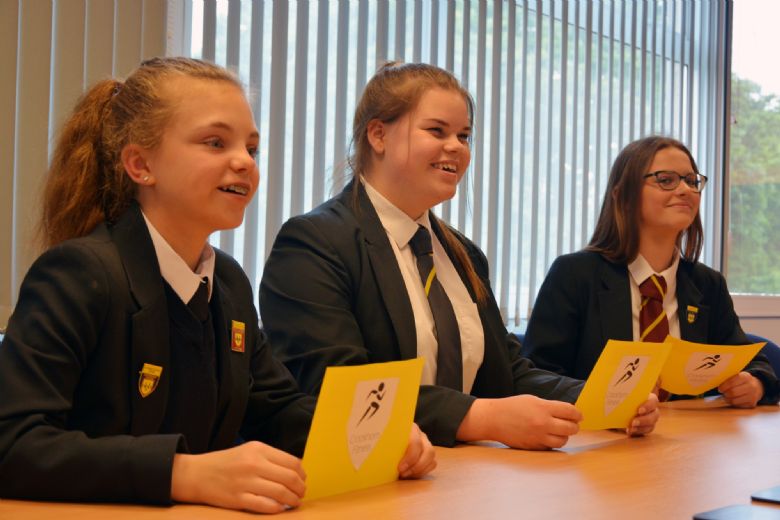 We also had the shortlisting for the Head Boy and Head Girl candidates. I was delighted with the number of applicants we had this year for both roles, and the quality of the applications were really exceptional, with many students obtaining references to support them. It was an incredibly hard decision to make, but I made it clear to each of the students who had applied but not been successful with making the short list, that I was full of admiration and pride with the way they had put themselves forward. It takes tremendous courage to put yourself forward and face possible rejection, but they did and as a result they will go on to be successful at whatever they try next, because the thing is they will try the next thing! In the words of Phillip Adams, an Australian writer:
"A lot of successful people are risk-takers. Unless you are willing to do that, to have a go, fail and have another go, success won't happen"
Our successful candidates for Head Girl are Claudia, Jess and Libby, while our successful candidates for Head Boy are Freddy, Jack and Lewis. In the two weeks building up to half term, they were busy putting their election manifestos together with the help of Dan Parkinson, who oversees all our media. They will have posters and videos, all of which will be uploaded to 'itslearning', so all students and staff have the chance to hear their proposals and can then vote for their preferred candidate. Election week at Crookhorn is indeed the same week as the General Election week for Britain, so what a wonderful opportunity for the students to see democracy at work, both within their own community, but also on a much wider national platform. I wish all the Crookhorn candidates good luck with their campaigns and I know that I will be delighted whatever the outcome, as the qualities that each candidate possesses are very impressive. I cannot, I fear, say I feel the same way about the national elections.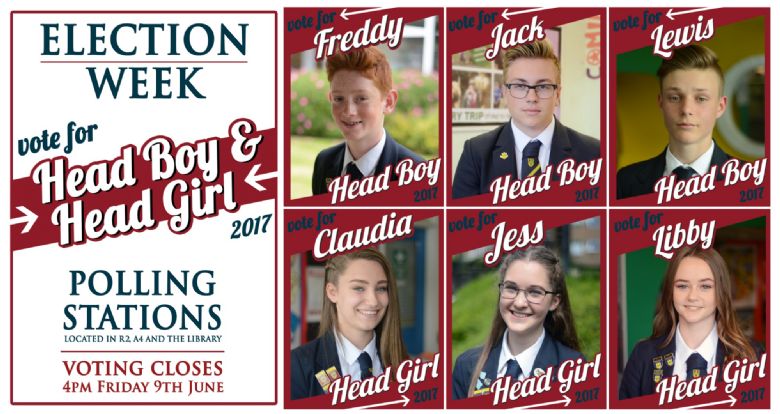 On 18th of May, our PE Department took a total of 57 Year 9 and 10 boys and girls to the Mountbatten Centre to take part in the annual South East Hants Schools Athletics Meeting. The meeting is designed to not only give the students the opportunity to participate against other local students but also to see if they can qualify for the SE Hants Athletics Team. This year's results were one of the best ever. Nine of our students finished in either first or second place and they will qualify for the SE Hants Athletics Team, while a lot more finished in the top five. This resulted in Crookhorn College finishing in third place overall, out of the eleven schools that took part. All students that competed tried their hardest and should be congratulated; however, there were some fantastic results achieved by the Year 10 girls: Tahiti C 3rd (100m), Daisy D 3rd (300m) and 3rd (Long Jump), Carly G 3rd (Javelin). Year 10 boys; Marvin O 3rd (100m), Patrick H 3rd (400m), Tom C 1st (800m), Jack R 2nd (1,500m), Kameron D 1st (Shot Put) and 1st (Javelin), Ethan S 3rd (High Jump), Albert W 1st (Discus) and 3rd (Shot Put), Troy H 1st (Long Jump). The Year 9 girls; Amber F 1st (High Jump) and 2nd (1,500m), Jasmine F 3rd (High Jump), Louise R 3rd (Javelin). The Year 9 boys; Sam G 3rd (100m), Aaron E 1st (1,500m), Hayden F 2nd (Shot Put) and 2nd (Discus). Well done to all who took part and I absolutely want to take this opportunity to thank Natasha White and Chris Watson, for their unfailing commitment to seeking out all opportunities possible to enable the students to shine and experience taking part in competitions, and filling them with encouragement and hope to take a sport further.
As you can see from what I have written about above, May has been a month of real personal achievement and pushing of personal boundaries, but it has not stopped there. The essence of leadership and growing leadership skills amongst our students continued on the weekend of 19th-21st May when 24 students embarked on our second Year 9 leadership camp. During the weekend the students were introduced to what can only be described as 'back to basics' camping and a range of challenges that included bushcraft butchery, cross-country navigation and the building of (and sleeping in) their own shelters. The purpose of this camp is to build resilience and leadership skills as individuals, as well as in a team. It forms a key part of the Leadership Awards scheme that I talked about in the April blog. Both Chris King and Samuel McGinley, who oversaw the weekend, said that the students showed completely different sides to their personalities, in the most positive of ways.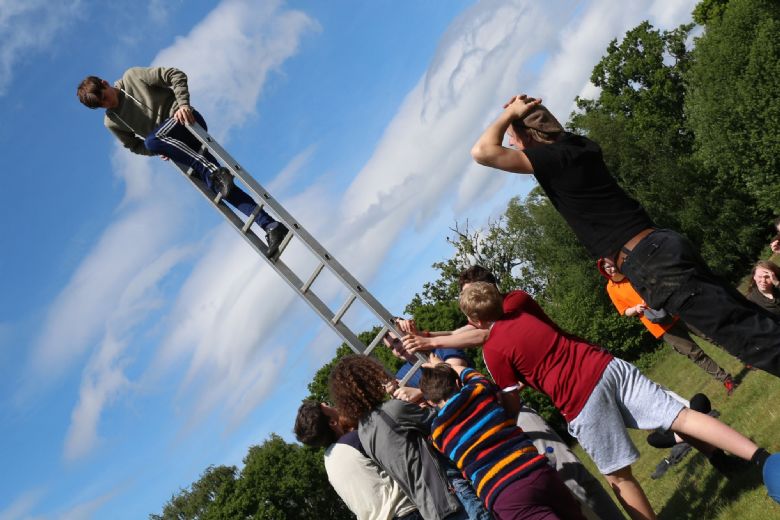 This weekend followed sharply on the Duke of Edinburgh practice expedition the weekend previous where 27 students and 4 staff were at large in the New Forest. Suffice to say that the students did exceptionally well and all the staff managed to successfully navigate their way back this time too! Again, as with the Leadership Camp, the Duke of Edinburgh programme provides wonderful opportunities for students to develop skills and confidence in areas beyond the classroom, and learn more about themselves and how much they can actually achieve.
When we grow leadership, we like to capitalise on it and then use it to further enhance the learning and personal responsibility culture within the College. A great example of this is our peer mentoring scheme which is run in conjunction with South Downs College. This scheme has seen ex-Crookhorn students come back and be trained so that they can mentor current Year 8 and 9 students. The purpose is for the mentor to share their experiences to help guide and motivate the younger students into making the most out of the learning and support, as well as extra-curricular experiences that are available at Crookhorn, so they can achieve outcomes which leave as many doors open as possible post 16. Although as teachers we talk to the students about this all the time, the students tend to listen more to their peers who have just embarked on post 16 education, and so our plan is to capitalise upon that! The mentoring meetings happen once a month and focus on the student's latest report and how they can tackle some of the issues they might be struggling with currently. It has been very beneficial so far, and June sees the programme going a step further, with the Year 8 and 9 students going up to South Downs for a tour of the campus with their mentor.
Talking about transition post 16, this time of year is incredibly busy with regards to transition from Year 6 to Year 7. Our pastoral team have been out visiting every single primary school which has pupils coming to us in September 17. The aim of these visits is to collect as much information as we can on each of the pupils to ensure that we are all prepared for their needs, whatever they may be, to facilitate a smooth transition in learning and emotional development which is so critical at this point. We have also had a series of transition afternoons, where the Year 6 pupils have visited us here at the College and spent an afternoon with Dave Lemon, Head of Goodwood House, going through some of the essentials about the College ready for the full induction day in July, and then the actual start in September. We always find it re-energising, but also poignant, at this stage of the academic year to have such enthusiasm and excitement arrive at the College, so keen and intent on their next step of the learning journey, as we are in the final stages of helping Year 11 through to the end of their journey with us, leaving hopefully with results that will ensure a successful onward transition. It gives us as teachers a real pause for reflection, on the importance and significance of our roles as facilitators, for we are surely like pilot boats, guiding vessel after vessel through particularly turbulent waters so they can safely and successfully go on and explore the waters and world beyond.