January / February 2022 Blog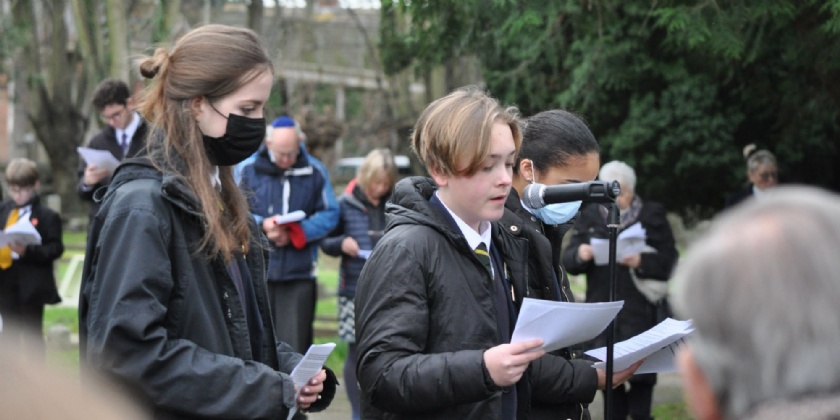 I have to admit I was rather dreading the start to the Spring term. For yet another year the spectre of COVID-19 loomed large and to make matters worse I was booked for my booster within the first two days back, and I certainly did not feel that I had yet recovered from my tussle with the virus itself from the first two weeks of December. However, the dread was worse than the reality. Term started with the efficient running of the COVID-19 testing system as overseen by Mr Todd and after completing 717 tests - which is 81% of the College community, and we only had 2 positives - which equates to 0.3% of those tested. So we were off… attendance of students was excellent compared to national average and staff absence due to COVID-19 was manageable.
Happily and probably predictably I recovered from my booster, in time for the annual inspection by Hampshire County Council within the first two weeks focussing on the quality of education and safeguarding within the College. We had a very positive experience with two Hampshire inspectors and their report was published to us last week. I have shared this with the staff, because much of what is written in the report is a testament to the hard work and dedication of all the staff as well as the resilience and commitment of the students. It clearly demonstrates that so much of the work we have done over the last two years, through the COVID-19 times, has been of a benefit to our teaching and learning and not a detriment. I have attached a copy of the report to go with the blog, and you will see highlighted sections which I used with the Senior Leadership Team last week, when we were reflecting at our annual conference, of what is going well and where the momentum is building with regards to our learning ethos at the College.
The management of staff absence has been an ongoing concern throughout January and February. Even with the reduction in the self-isolation time, it has been a logistical juggling act to keep all year groups in and learning. The upside is that I have been able to get back in the classroom, which I have really enjoyed, and I have been so impressed with the commitment of staff who have volunteered time and again to do cover to support classes and students, whilst teachers have been away. This will stay with me for a long time and is a clear indication to the strength of the Crookhorn community.
It is because of this support that we have also been able to run all our planned enrichment this half-term, which has also been of massive benefit to the students, who have already missed so many opportunities due to two disrupted years of education. The benefits of the enrichment events that we were able to carry out in the second half of the Autumn term can be seen exemplified at the end of the blog, in the form of two pieces of creative writing by Year 8 students who thrived on the experience of visiting Uppark House and getting physically into the atmosphere of gothic writing. That trip alone generated 11 Head Teacher merits due to the quality of writing!!!
And so to this term. Starting on January 10th, the English Department held an English Literature Shakespeare Master Class for Y11, spending the whole day revising the drama that is 'Romeo and Juliet'! The whole year group was off timetable all day, working with their class teachers on revising the play for the first time since December 2020! Both staff and students enjoyed a really full and enriching day ('It went so fast' - was one comment). We are seeing the dividends of this event now as we go through the English Literature mocks.
From Tuesday 11th of January, the Library launched its lunchtime chess club overseen by Miss Humby. This has proved to be an absolute winner during these cold winter months and staff have been tempted to go up and take on some of our budding chess protégés. It has, on really exciting days, drawn quite a number of spectators as well.
On Wednesday 12 January Mrs Masson and members of the history department took 46 year 10 and 11 students to Hampton Court. Steeped in history, the site itself was beautiful as students and staff walked up to it across a frost covered field. The morning was spent productively exploring the palace and the grounds and the students behaved beautifully with the guides being very impressed with the students' level of knowledge.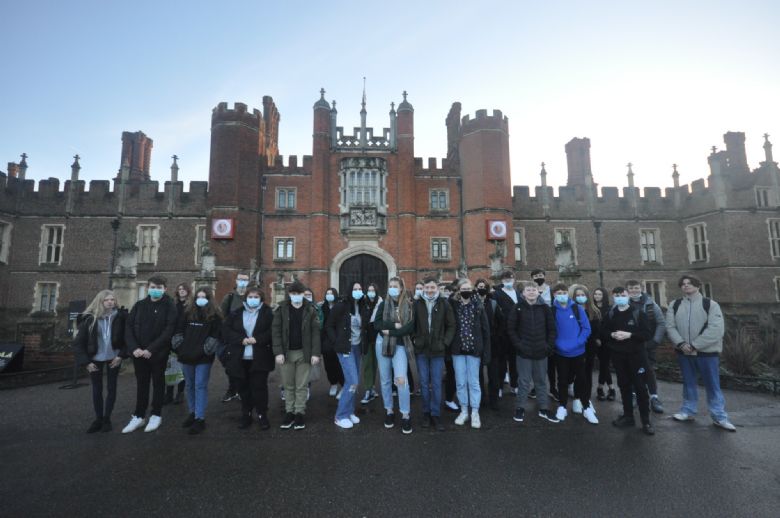 Later in January, a group of 4 Year 7 students (Imogen. I, Annabel. H, Scarlet. O'B, and Miley. W) had the opportunity to go to Park Community School to compete in the exciting Havant Rotary Youth Speaks Competition. The students had to prepare and present their own debate topic on: 'Has social media impacted our lives in a good way?' After lots of dedicated rehearsals after school and at lunchtime the group was ready to present their 15-minute debate. The group was entered into the intermediate category which meant they were against other students from Years 7 to 9. In the words of the judge, the students were "exceedingly professional" in representing their school and came first in their category! They are excited to now represent Crookhorn College at the next stage in the competition in March.
This was then followed up by two events on the 27th January, the first being the opportunity for a group of Year 7 mathematicians going to Horndean Technology College. The students behaved immaculately and represented Crookhorn with class, demonstrating a high level of maturity. One of the groups was one point off finishing in the top three with the final scores all being very close.
The second event was 9 Early Entry Historians attending a service of commemoration organised by Havant Borough Council and led by Cllr Leah Turner for Holocaust Memorial Day. The service focused on the theme 'One Day' and our students Casper, Megan and Sophia delivered a reading prepared in school by Mrs Masson entitled 'A Wish for One Day'. The service was an important reminder of why we should all reach into the past to reflect and learn and stand up and talk about the acts of cruelty and inhumanity that affected millions of people, so we do not repeat them today.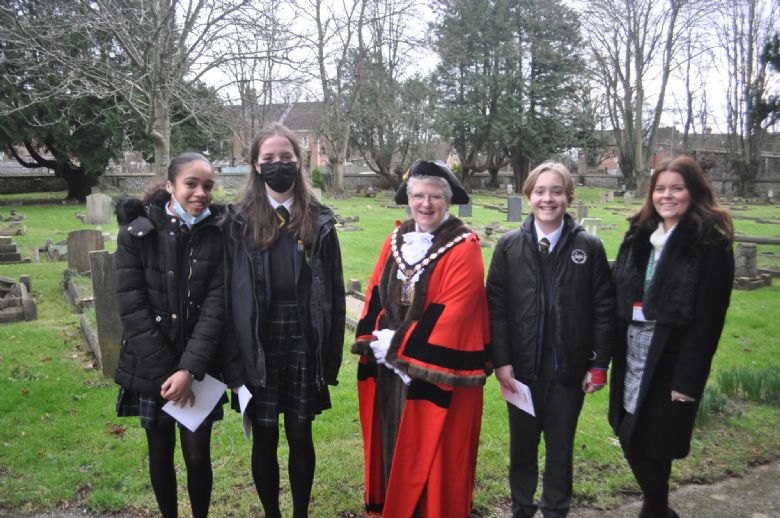 The students that attended the service all agreed that it was an honour to be involved and to represent the College.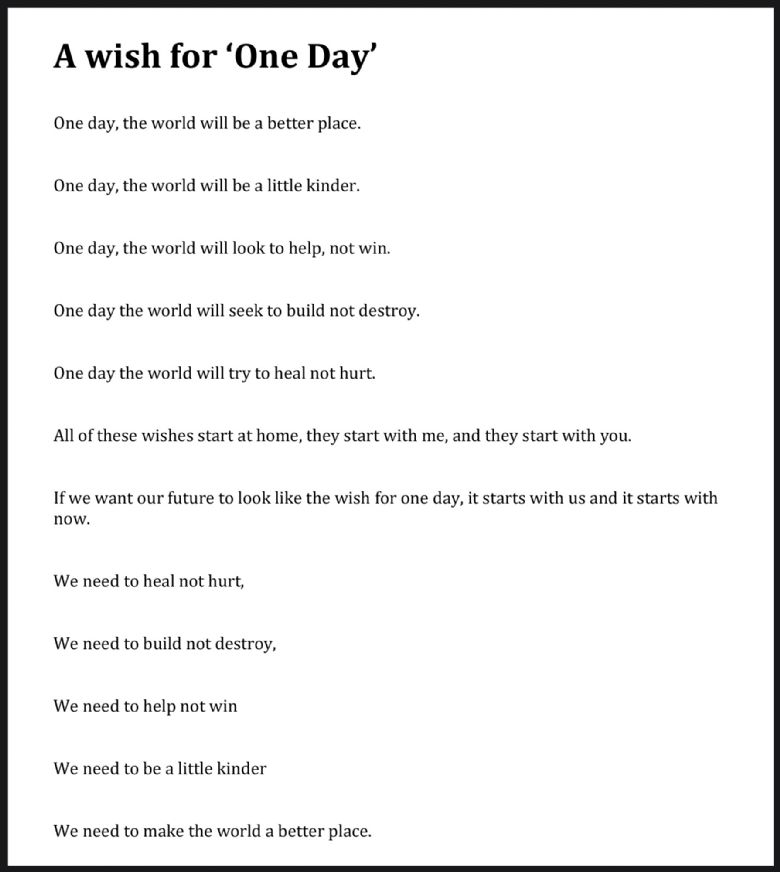 At the start of February, I had my half termly meeting with the student senior team within the College. This team consists of the Head Girl, Deputy Head Girl, Head Boy and Deputy Head Boy. The purpose of this meeting is for the senior team to bring the outcomes of the House Council meetings which in turn have been fed by student voice from the tutor group forums on itslearning. We discuss at length what student voice has raised and then make a joint decision about what should go on the agenda for the College Council. At this particular meeting, Mr Lemon and I thought it would be a good idea to start off with a quick reflection of what the student leadership body have achieved so far this year. The key achievements are outlined in the table below:
You Said
We Did

Canteen - need to reduce pressure in the queue.

2nd service area opened in the Performing Arts.

Inside areas available to students at lunch during winter month.

Opened the library, main hall and performing arts as indoor spaces for different year groups. Library is open for all year groups- and now runs chess club too.
Separate sports space at lunch for year 11 football as the courts at the front of the school are too crowded with 3 year groups on them. Duty member of staff available to support the area.

Study Club incentives

CORE subject teacher to attend KS4 study club once a week to support students.
Food available.
Study Club cup at the end of the year to be presented House participation.
Reward in House assembly for participation- KS3.

Go Greener

Task force has been set up with Mrs Edington and plans have been discussed to bring to next College Council.
Having gone through this we then discussed what the students wanted as the focus for the College Council meeting scheduled to take place in the next week. The senior team were very keen to take the following points forward for action:
Go Greener:
Water stations in key areas of the College to reduce amount of plastic water bottles. (Students can top their own bottles up easily, without always having to get back to the canteen).
Reduce the number of worksheets by having resources virtually on itslearning plans, so students can access them easily- this avoids sticking paper to paper and reduces photocopying.
DEAR time (Drop Everything and Read):
Can plans + reading material for DEAR time for each daily session be on itslearning as this will help especially when there is a cover teacher. It means that DEAR time can still happen. + the content of DEAR time.
House competitions:
Increase the variety of competitions across the year- as students are really enjoying being part of them again.
Mr Lemon and Mrs Tuff said that the meeting was incredibly positive around all these agenda items- and in my March Blog I will share the outcomes of the meeting with you and what actions we will undertake as a result.
On Thursday 3rd February, Miss Grundy, Mrs Callaghan, Mrs McCaw and Mr Parkinson took 33 students to perform at our first ever Dance Live! competition. Miss Grundy provided the following account of the event: "Overall, we had a young cast and some of them had either never performed before or experienced a day like this largely because of the disruption to all performance over the last two years. Regardless, the students showed resilience in coming together and not giving up, even though we had to make multiple last-minute changes due to certain students unable to attend the day. The cast and crew showed amazing teamwork with helping one another with costume, hair, and makeup.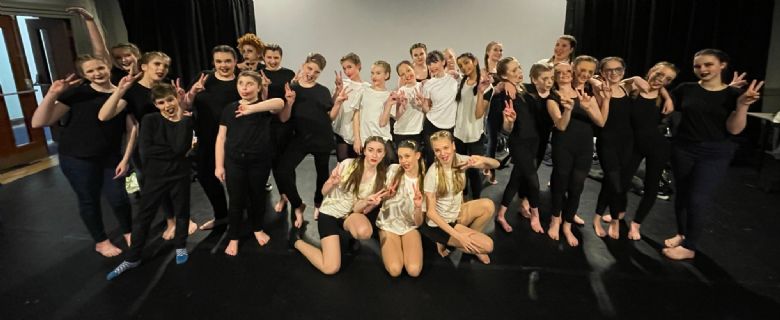 The students' performance showcased their hard efforts and how well they picked up the intricate choreography. Despite a fire alarm sounding during our set, the dancers were unphased and carried on professionally. Backstage our team was given the opportunity to redo their performance and close the show. Unanimously, our student chose to go back on and were eager to perform again, showcasing the real determination, grit and resilience Crookhorn students have. The comments from the judges were well-rounded giving praise to our choreography, LED screen, concept and choice of music which showcased a hard-hitting theme of cyberbullying. Even though the day was challenging, exhausting and very long, we can't wait to do it again next year!
Being able to take part in events like this is so important, and I am so glad we were able to facilitate it, despite the pressure around staff and student absence at the time. I think the experience those students had on that day is immeasurable in benefit in terms of memories and confidence building.
Likewise on the 7th of February, Mr Watson was able to take 15 Year 7 and 8 students to the Southeast Hants Cross Country meeting at Churcher's College. Although we did not have any top 12 finishes enabling the students to enter the county finals in March, we did have a number who finished within the top 15- which out off 50 students in each race is pretty impressive. Mr Watson was delighted at the way each student dug deep and put their absolute best effort in until they crossed the line, absolutely exhausted. I am proud of each and every student who took part.
For the last two weeks of this half-term, we have had Year 11 mocks which have gone extremely well with an average of 95% attendance on each day (again- no small feat in these times). Teachers are now busily marking the papers ready to feedback to the students after half-term as part of the critical preparation for the summer exams.
It is worth noting at this point that attendance to Study Club has really improved this term with more and more students taking up our offer for support with either their homework or revision. In total, we have seen a 61% increase in sessions attended, with Year 10 and Year 11 doubling in number of students attending. Part of this increase will be to do with core teachers supporting in the KS4 study club as requested through the student voice of the House and College Council, but it also shows that students are taking their learning seriously, and many from KS3 and KS4 are willing to spend time after College to secure the very best grades. We also track the students who attend by House, and Miss Bishop who is Head of House for Arundel is delighted to be in the lead at this stage. Mr Collins has purchased a trophy for the winning House which we know will make our Heads of House even more competitive!
Finally, we have also, and I need to take a deep breath when I say this, achieved what I believed would be impossible, and had 180 students out on work experience since the 7th of February. Mrs Brown and Mrs Mack never gave up and right up to the last day before the work experience was due to start, were busy sorting out paperwork and seeking generous employers who would help out when placements folded due to COVID absence or other unforeseen complications in the work place. The feedback we have had so far has been utterly brilliant, and again I will share this with you in my March blog.
When it has been really hard and each day has been a bit of a struggle largely due to issues and regulations completely beyond our control, the blog really helps remind me of what a community we are and how every day as students and staff we seek to go beyond what was thought possible.
Have a good half-term everyone!