We celebrate National Careers Week 2022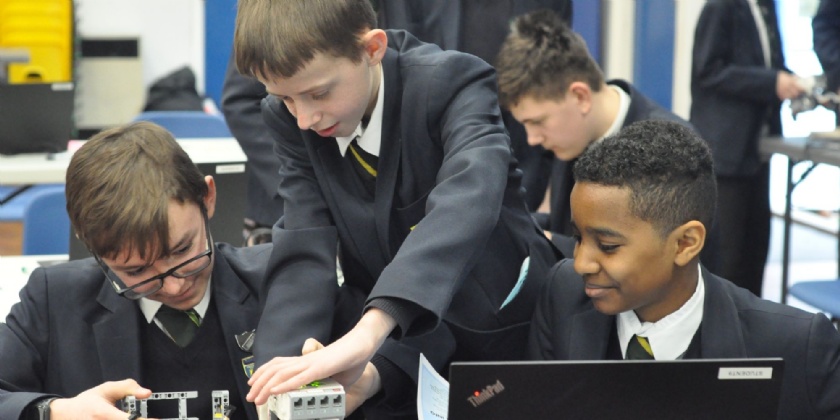 In celebration of National Careers Week, the College have been running various events organised by our Careers Department to raise aspirations and empower positive change through careers education.
Employer Exhibition
We started early with an event the week before, to showcase to our Year 8 students the importance of transferable skills in the workplace. Nine local employers, with their apprentices explained to the students how various skills are used in their company. We were supported by ICEE, Hampshire Futures, Jackson & Green Accountants, Portsmouth NHS Trust ICT, SERCO Engineering, COMSERV, Rolls-Royce Motor Cars, Malmesbury Lawn Residential Care Home and Hair OTT. The highlight for some students (and staff) was seeing the £400K Rolls-Royce in the College car park.
Havant Federation of Schools Careers Fair at HSDC
On Tuesday fifty of our Year 9's ventured to Havant & South Downs College (HSDC) to visit the Havant Federation of Schools Careers Fair. They had the opportunity to explore Post-16 options. Whilst talking to the exhibitors they understood the requirements of the courses and got a better understanding of the different career paths they have available to them.
Health and Science Careers at the University of Portsmouth
On the Wednesday thirteen Year 8 students, who are all looking to follow a career path in health or science took part in a taster day at the University of Portsmouth. The sessions included X-Ray Detectives, Healthcare Secret Service and Kids Save Lives, where they learnt CPR and how to use a defibrillator.
"I really enjoyed the Paramedic Science because we got to learn a lot about the jobs they do and how things work (like the defib). It was really easy to understand." - Amy. E
"The best part of the day was learning how to do CPR and how to help someone breathe. I would defiantly recommend this to students looking into any health care roles." - Tayla. H
"Today was really fun and gave us a good idea of what uni is like, and it has made me more open to the idea of going to university in the future." - Chloe. B
Robotics Workshop with Bournemouth University
As part of the College's continued focus to promote the diversity and range of STEM careers, students took part in an exciting robotics workshop, hosted by Bournemouth University. Year 8 students worked in small teams to programme and customise their own LEGO EV3 robots and have them complete a series of tasks on a track. The workshop combined design, engineering and programming with teamwork and focused heavily on the skill shortage in the UK surrounding subjects relating to computing, engineering and cyber-security. This helped them develop a number of important transferrable skills, such as teamwork and problem-solving, which they will be able to utilise going forward.
"It was a really enjoyable and fun experience and I really liked programming the robots to do different tasks." - SAVANNAH. W
"I really enjoyed completing all the tasks as a team and learning about coding." - LUCY. H
"It's not impossible. It just takes determination." - BEN. A
Mrs Mack was extremely proud of how our students engaged at the different events throughout the week and hopes that these events have inspired our students to work hard and to fully reach their potential.