Year 7 discover the Mary Rose as part of our Strictly Tudor Surgery trip.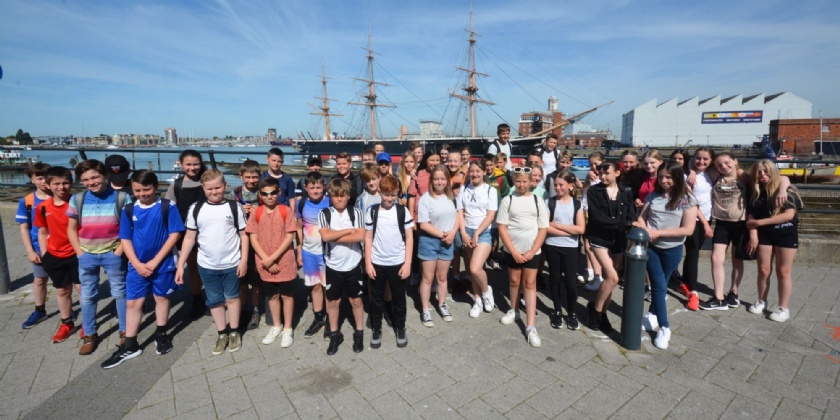 This Thursday the History department took forty-eight Year 7 students to the Mary Rose museum, located at the Portsmouth Historical Dockyard to experience a day of Strictly Tudor Surgery. They took part in a workshop led by subject specialists and then had a tour around the museum with a guide.
The workshop focused on the Tudor Surgeon and looked at how different medical practices have changed from the 1500s to 2022. Students got to step into the role and present their own diagnosis and treatments to one of the many illnesses that crew members may have faced while serving on the ship.
Next, student got a guided tour through Henry VIII's Mary Rose. Starting on the lower levels and working their way to the upper deck, our Year 7's got to see first-hand many of the artefacts, remains and personal effects recovered from the ship and seabed, which sank just a few miles off the coast of Portsmouth in 1545.
The highlight of the trip was being able to handle some of the artefacts, including getting to touch a piece of the Mary Rose itself!
All the students that attended the trip had a thoroughly enjoyable afternoon experiencing part of our local history.
---
Here is a trip review by Year 7 students Scarlet, Annabel and Imogen.
On Thursday, we went to the Mary Rose Tudor Museum in Portsmouth for a school trip. Firstly, we had a workshop directed by an amazing staff member of the museum. We learnt about Tudor surgery, and the tools required for different medical situations. These items were replicas of the actual artefacts used for surgery found on the Mary Rose shipwreck which have been brought up from the sea and pieced together. It was educational, and we learnt that you wouldn't have wanted surgery during Tudor times! This was a fantastic experience to role-play.
During our period of exploring the museum we got to view the actual remains of the ship, which was discovered in 1975, and was pulled up in 1982. We got to touch real artefacts from the ship, read and experience different facts and activities based on the Mary rose. Our tour guide Mike deserves great gratitude, for his advanced knowledge and for showing us around the museum.
Overall, it was an amazing day, and we are so grateful to have seen and taken part.