Staff and students Celebrate 2022 Exam Results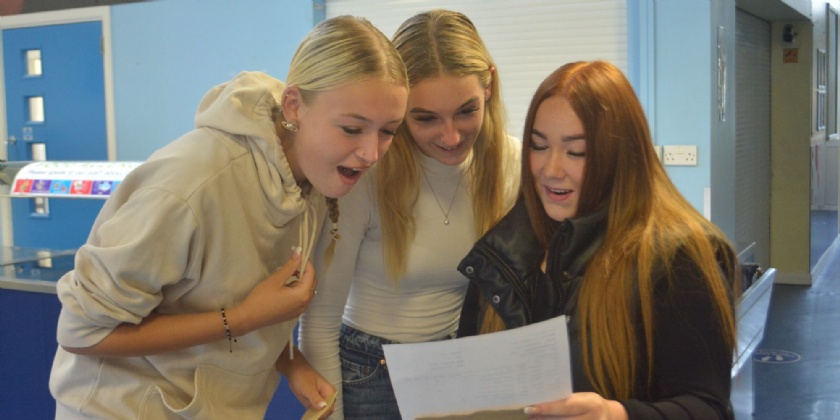 Despite the challenges of the last three years staff & students at Crookhorn College have much to celebrate with the exam results this year.
Covid forced the education world into a different mode of operation, requiring the independence of learning remotely facilitated by a teacher – not an easy transition to make.
However, at Crookhorn, over the three years we have endeavoured to learn and adapt swiftly to the required changes and opportunities that have been presented. This has meant that throughout times of disruption students have always been able to access the day's learning, have access to all required learning resources and their teacher through the Crookhorn virtual learning system.
As a result, at all prior attainment levels, learners have excelled with their results this year, leaving the Head and all the staff unbelievably proud of their personal endeavours. The class of 2022, far from being disadvantaged from the pandemic have proved what can be achieved through tenacity and the overriding belief of never giving up.
RESULTS 2022
We are incredibly proud of our students' achievements and exam results at Crookhorn College.
• 68% of our students achieved English and mathematics Basic (4+)
• 81% of our students achieved a standard pass in English (4+)
• 73% of our students achieved a standard pass in mathematics (4+)
The subjects below gained the following percentage of students awarded a grade 9 – 4 :
Art 67%   
Biology 94% 
Business Studies 92%  
Catering 86%  
Chemistry 88%    
Child Development 81% 
Combined Science 57%  
Computing 93%  
Dance 100%
Drama 91%   
Engineering 100% 
English Language 75%  
English Literature 74%  
French 82%  
Geography 68%  
History 74% 
Mathematics 73% 
Music 100%  
Photography 65% 
Physical Education 83%  
Physics 100%   
Religious Studies 89% 
Sociology 100%   
Spanish 61%