Madrid Trip 2022 Blog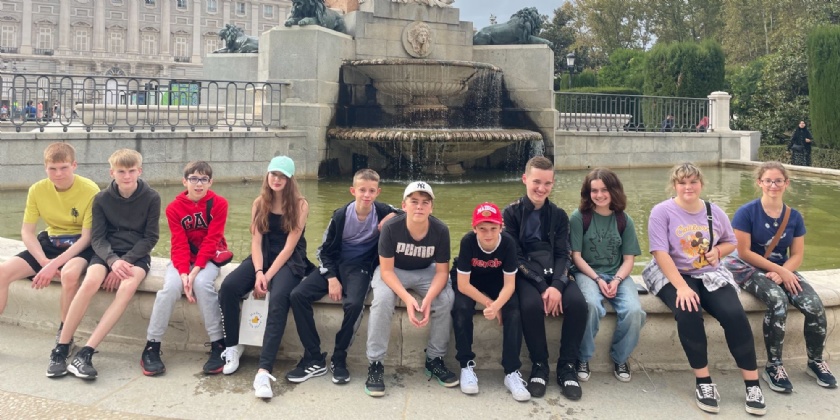 Madrid Trip - Wednesday 19th October
After a very early departure from the College (3.30am) twenty-six students from Years 9-11 and three members of staff arrived in the capital of Spain, Madrid to start a four-day adventure.
Our first day started with a tour of the Plaza Mayor, where students got to browse the many shops and take in the beautiful architecture. From there we stopped for some lunch, with some students sampling the local cuisine at 100 Montaditos (tapas style sandwiches with different fillings), topped off with churros and hot chocolate.
After that we visited the gardens of the Royal Palace, which we are booked in for a self-guided tour tomorrow.
Once everyone had toured the local sights it was time to head off for a bite to eat. Pizza, pasta, paella and pollo were available as an all-you-can-eat buffet.
With our bellies full and feet sore it was then time to head back to our hotel, ready for a full day of exploring tomorrow.
Madrid Trip - Thursday 20th October
Our second day kicked off with a continental breakfast at our hotel before taking a short walk to Mercado De San Miguel - a famous food market that specialised in local delicacies; where students treated themselves to churros, tapas and jamón serrano (cured ham rolls).
After we'd explored the surrounding shops, our group headed back to the Royal Palace (where the previous King and Queen of Spain resided). Looking out over the Casa De Campo before getting lunch outside the Opera, near the Plaza De Isabell.
Once lunch was finished it was time to burn off some steam at a local park and check out the array of local street performers and costumed characters.
But the standout moment of the day has to be our visit and tour of the Estadio De Santiago Bernabeu - football stadium and home to Real Madrid CF. Students got to see the plethora of trophies the team has won over the years up close and even sit in the stands, overlooking the pitch. This was a personal highlight for many of our young football fans and a unique and exciting experience for all.
With a full day of adventure behind us, it was time for dinner and a good night's rest before we head out to Parque Warner (the official WB Warner Bros. theme park) tomorrow.
Madrid Trip - Friday 21st October
Day 3 in Madrid has been jam-packed with thrills and high-velocity excitement.
Once everyone was up it was time to jump on our coach and travel to Parque Warner for a full day of rides, scares and a host of 'Looney' characters.
Despite the park being the most popular attraction for thrill-seekers in Madrid, it was surprisingly quiet - due to our half-term holidays being different to Spain's. Because to this, all the attractions had a maximum queue time of 10 minutes, which our students took advantage of, to full effect.
The park is themed around the Warner Bros. franchises, with popular characters, such as Bugs Bunny, Batman and Scooby Doo being present. As well as these, an array of spooky staff members and rides could be found throughout the park - as our visit fell on one of their popular 'Halloween Horror Nights'.
There was no shortage of roller-coasters, jump-scare experiences, and one of the world's tallest free-fall rides for our students to enjoy.
Unanimously, our entire group had a thoroughly enjoyable day from start to end.
With another day drawing to a close, it was time to go for dinner and then get some well-earned rest, before our final day in Spain tomorrow.
Madrid Trip - Saturday 22nd October
For our final day in the capital, our students single-handedly boosted the Spanish Economy as they enjoyed a morning of spending in one of Madrid's most popular pedestrianised shopping areas, the Calle Preciados.
Top choices were clothing (especially Madrid hats) sweets, souvenirs and a plethora of rubber ducks.
Once we had shopped-till-we-dropped, it was time for lunch and a walk around the Plaza De España. For our final activity we visited the oldest and most famous Chocolateria in Madrid, where our students got to sample the finest churros and hot chocolate. The Chocolateria San Gines is so famous that it is decorated with pictures of actors, singers and sports personalities that have previously visited, such as Stevie Wonder, Maradona and Sir Roger Moore to name a few.
Once we were finished it was time to catch our coach to the airport and prepare for our departure, back to the UK.
Overall, the trip has been a massive success and the students that attended have been a real credit to the College.
Lastly, we have to mention how impressed we've been with our student's willingness to engage with the culture and practise their Spanish whilst on the trip. The manager of the hotel complimented us on our student's behaviour and wished all their visitors were like them.