Year 10 Alice in Wonderland Day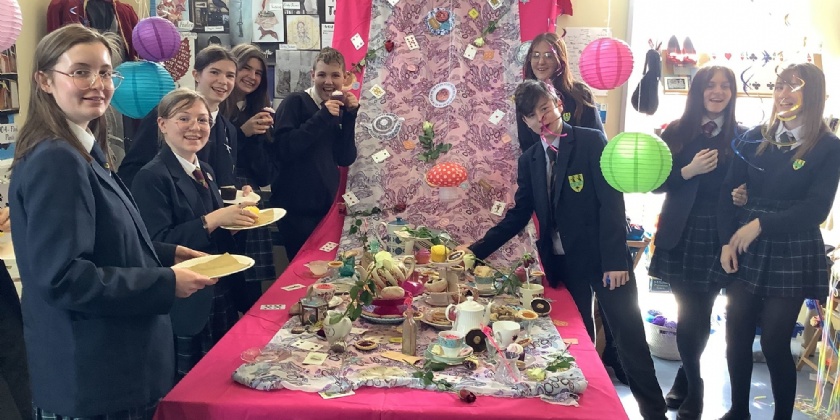 Year 10 Alice Day Experience (Art & Textiles)
On Wednesday last week, our Year 10 Art and Textiles students kicked off their Story Telling coursework project by spending a day in Wonderland. P11 classroom was transformed into a Mad Hatter's Tea party complete with oversized props, floating playing cards and lots of cake.
This set the scene for an immersive experience learning all about the Alice story, from its origins as a Victorian children's tale to its lasting influence on visual and creative arts.
Throughout this guided tour of literature, art and music, students photographed the displays and created their own illustrations using John Tenniel's original images along with others from the era. They then drew inspiration from the traditional animation techniques of Disney's cel painters and contemporary digital artists to add colour to their pieces.
Great fun was had by all and, more importantly, lots of enthusiasm generated for the last phase of their coursework.
Some of the students that attended had this to say about the day:
"I learned a lot from the work I completed like how just a couple of images can create a beautiful scene"
"When I was let into the room it felt like I was in a different dimension. It felt so magical."
"10/10 for enjoyment 10/10 for the experience and memories" - Devon
"I learned the origins of Alice, how it nearly never came to be and how overwhelmingly influential it was."
"It was amazing, all the decorations were beautiful and actually felt like they came from Wonderland and the activities were fun and engaging" - Roo
"It was a wonderful day" - Freya
"I felt the practical work was relaxing and I learned how old Disney films were hand made using cel painting" - Chloe
Mrs Pitassi who organised the event said that the day was so rewarding and worth all the hard work. Getting to see our students interact and engage with the exhibits has been so fun and amazing. A special Thank you also goes out to Amy, a Crookhorn Alumni and Artist, who came in to support the day and assist our current Art and Textiles students.