Picardy, France 2023 trip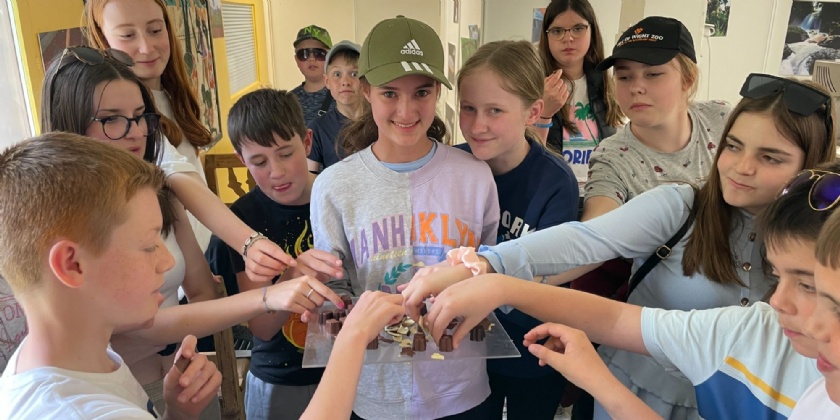 At 5.15am last Friday, 37 students from Years 7, 8, 9 and 10 set out on a four-day, luxury camping adventure to Picardy, France.
The trip included a wide range of cultural and outdoor activities and gave the students many opportunities to practise using French in real life situations. They certainly did not fail to impress! From following the explanations by the French goat farmers and chocolatiers at the chocolate factory, to shopping at Amiens market, to ordering their food at the château and answering questions under pressure from Bruno the Baker, our students showed great resilience and enthusiasm in putting their linguistic knowledge and skills to the test.
The obstacle course and initiative exercises completed on site and the visits to the stunning Amiens cathedral and fascinating Wellington Tunnels were also all well received. The evenings saw the group competing in a series of team games and challenges in the 'Château Olympics', a quiz night and lots of football with the much-loved coach driver, Will!
The sun shone from start to finish and a thoroughly enjoyable and memorable time was had by all. A big thank you must go to both the staff and students for making it such a successful trip.
Students had this to say about the trip:
"The Picardy trip would have to be the best trip I have been on. The teachers were all very approachable and made my time even more enjoyable. The activities were all thought out and I had lots of fun while learning a lot, including exploring historical and cultural sites. I also got the chance to experience new things such as snails, frog's legs and fresh goat's cheese. As a student taking French as one of my GCSEs, I also feel that this has given me an opportunity to practice my French speaking, especially in the market we visited. Out of all the things we did over the weekend, I do have my favourites; however, I couldn't choose just one and would have to say that the obstacle course and the goat farm had to be the best activities in the trip for me. I thoroughly enjoyed going to Picardy and hope that there are many more chances for adventures like this." - Savannah, Year 9
"The Wellington Tunnels were used by British soldiers in WWI, and they are 20ft deep. Visiting them were my favourite part of the trip because of how historical it was. The entire trip was incredible." - Owen, Year 8
"I really enjoyed the Picardy trip. My favourite activities were the Wellington Tunnels because I really enjoy history and visiting the chocolate factory and bakery because I like catering at College." - Junior, Year 9
"Picardy is one of the best trips I've ever been on, and I enjoyed the opportunity to develop my French as a student who is taking Spanish. The views were wonderful, and in my opinion, the best bit was when we visited the goat farm and got to explore the French market." - Kasia, Year 8
"It was a great trip and opportunity to learn about the French culture, which helped improve my French speaking. The different activities we did around the site were very fun and I loved the food that was served to us!" - Summer, Year 10