Whole College Act of Remembrance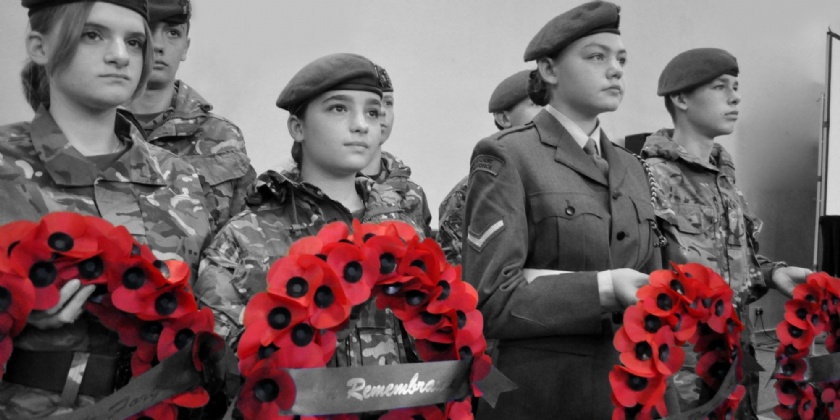 This morning, the entire College gathered in the Sports Hall to pay their respect, as part of our annual Act of Remembrance.
Almost a thousand people including students, staff, Governors and guests attended the service, led by Reverend Smith of the Church of the Good Shepherd.
The Act of Remembrance began with prayer and a unifying message of hope, with our thoughts to those who sacrificed their lives for the freedoms and liberties that we have today. After hearing about why it is so important to come together in remembrance, the College joined our choir in singing 'I Vow To Thee My Country'.
Our service continued with a presentation led by our Head of History, Mrs McClenaghan and a selection of History students, who spoke about the Battle of the Atlantic, which was the longest continuous military campaign in World War II and ended in 1943, 80 years ago this year.
After that, we listened to readings of the poems 'The One' and 'In Flanders Fields' by our Head Boy and Head Girl, who stood in front of a beautiful, hand-made poppy wreath, created by our art and textiles students using pompoms.
The Act of Remembrance culminated with our student cadets placing poppy wreaths at the front of the stage while our student Rock Choir performed an acoustic version of 'Sound of Silence' by Simon & Garfunkel, before the whole College participating in a two-minute silence at eleven o'clock.
Mathematics teacher and musician Mrs Osborne then closed our service with a live performance of The Last Post on bugle.
Thank you to everyone that attended our Act of Remembrance this morning and well done to all of our students; each and every one of you showed your respect today.