Crookhorn Christmas Panto!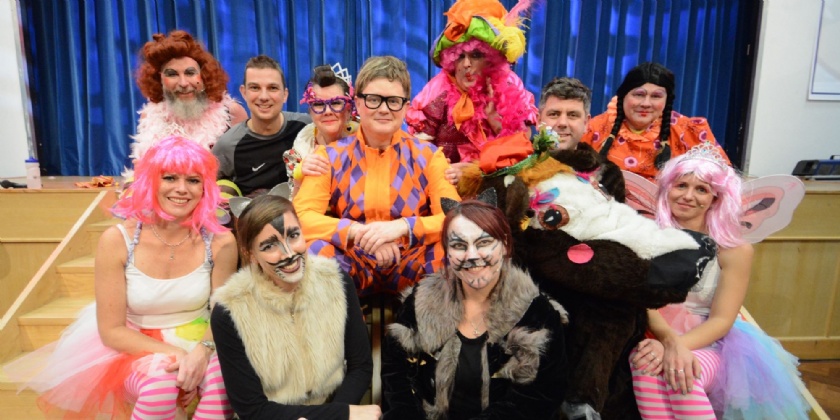 What better way to kick off the start of the Christmas holidays by putting on a good old fashioned British panto.
The whole College got to enjoy the outrageously funny annual Christmas pantomime today, performed by our Senior Leadership Team and a selection of teaching staff.
This year's performance was titled Puss in Boots does Blind Date, a brilliant and original tale about Puss in Boots and his search for true love. With the help from his friend, the Fairy Godmother and her fairy assistants they participate on the classic game show Blind Date, in hopes of finding romance before his evil brother; Puss in Shoes. The performance perfectly blended classic pantomime and pop culture with a few Crookhorn related gags, references and dance-offs thrown into the mix.
The main hall was filled with laughter and cheers throughout the four performances today. Thank you to all the staff involved, including the Creative Arts department for writing and organising the production and to everyone behind the stage creating costumes and helping out.
A brilliant way to finish the autumn term!
-CAST-
Mrs McCaw - Fairy Godmother
Mrs Bennett - Fairy Cake
Miss Williams - Fairy Dust
Miss Bishop - Puss in Boots
Mrs Poulter - Puss in Shoes
Mr Collins & Mr King - The Old Cow
Mr O'Sullivan - Boo D'Licious
Mr Hunt - Maya Normousbutt
Mr Potts - Ophelia Boob
Mr McGinley - Blind Date Host
Mr Lemon - Blind Date Contestant Derek
Mr Carver - Blind Date Contestant Sheila
-CREW-
Production by Mr Brunink, Mr Jones, Miss Williams & Mrs McCaw
Makeup by Mrs Miles, Mrs Renshaw and Milie