Chinese Cultural Experience Day 2019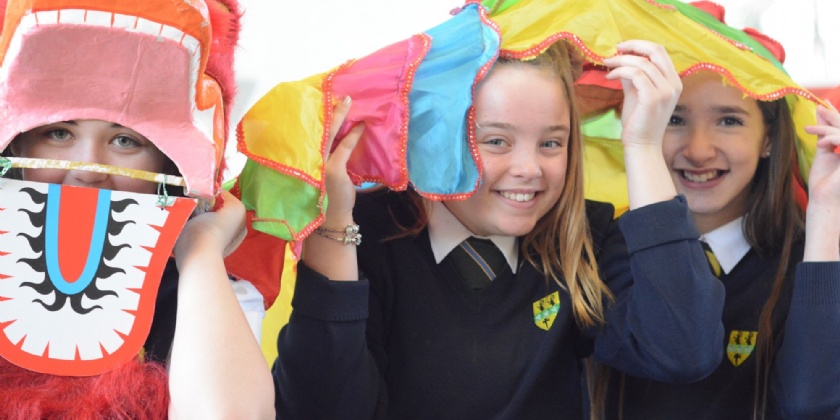 Today Crookhorn College played host to a day of celebrating and learning about Chinese culture as part of our annual Cultural Experience Day, organised by our Library Manager, Mrs Renshaw and English Teacher, Miss Eastmead.
Year 8 students spent the day attending a series of workshops - each one themed around Chinese food, culture, art or history.
First students had a hand at traditional brush painting. Students used wolf hair brushes and inks to create their own bamboo illustrations. After this, the next session students participating in a spot of self-defence and Tai Chi. Giving the Year 8 students an insight into the discipline and coordination needed to learn martial arts.
Next students experienced meditation in Miss Miller's class where they learned the benefits of calming the mind and centring the body, while practised breathing techniques.
The next session was hosted in the gymnasium with students participating in a spot of traditional dragon dancing, using decorative paper fans and parasols to create an elaborate and colourful dance.
After the dance class students moved on to learning how to make their own Chinese vegetable stir-fry with a culinary lesson hosted by catering lecturers and students from Havant & South Downs College. Our Students got to make their own individual dishes which they enjoyed during the lesson and at lunchtime.
Finally, the last workshop of the day involved students learning about Chinese culture and history. This lesson focused on geographical and economical facts about the country as well as information about the population of China.
Our Chinese Cultural Experience Day is all about giving our students the opportunity to experience something that will broaden their horizons and give them an appreciation of different cultures. Thank you to our brush painting and Tai Chi experts; Ms Martin and Mr Herron, the wonderful culinary team from Havant & South Downs and Miss Bond, our dragon dance master for such an incredible day to remember.