Japan Day 2019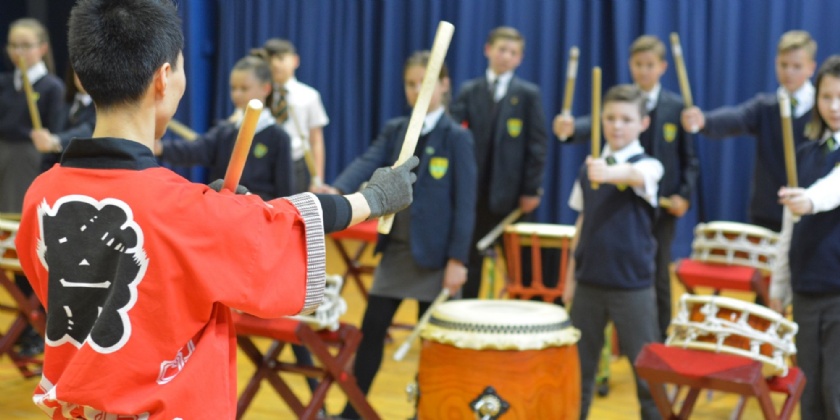 Today Crookhorn College played host to a day of celebrating and learning about Japanese culture as part of our tenth annual Japan Day, organised by Miss Eastmead and Mrs Renshaw.
Year 7 students spent the day attending a variety of workshops, each themed around Japanese food, culture, art or music. First students had a hand in the beautiful art of calligraphy. Students practised writing out Kanji characters, which are adopted Chinese characters that are used in the modern Japanese writing system along with hiragana and katakana.
Keeping with the drawing theme our Year 7 students then got to learn about Japanese Manga and Anime. Students learnt the difference between the various styles and even drew their own Manga inspired characters. After our Manga class students moved on to learning how to make their own maki rolls, with a culinary lesson hosted by Mrs Maun. Students got to make and hand roll their own delicious cucumber maki, which they enjoyed at lunchtime.
The next session was hosted in the gym with students participating in a spot of martial arts with our Taekwondo instructors. Giving the Year 7 students an insight into the discipline and coordination needed to learn the sport.
Finally, the last workshop of the day involved students playing taiko drums. Accompanying these large percussion instruments were the Joji Hirota London Taiko Drummers. Students thoroughly enjoyed playing along on the different taiko drums, which are traditionally used in Japanese festivals. Once all of our students had experienced what Japan Day had to offer it was time for everyone to meet in the Performing Arts Theatre to watch a stunning taiko drum performance by the Joji Hirota London Taiko Drummers. Wearing traditional clothing they performed three incredible pieces of music for our staff and students, which could be heard thundering down the concourse.
Japan Day is all about giving our students the opportunity to experience something that will broaden their horizons and give them an appreciation of different cultures.
Thank you to the Joji Hirota London Taiko Drummers, our taekwondo instructors and our calligraphy teachers for such an incredible day.