Students step up to the podium with Portsmouth University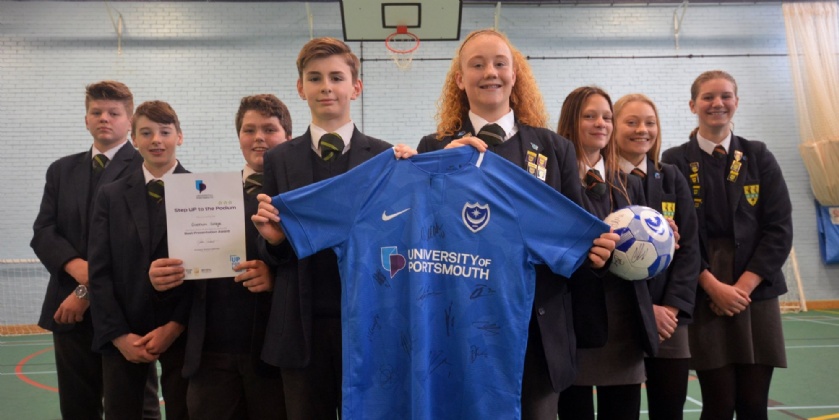 Over the past six weeks, eight of our Year 9 students have been working with ambassadors from Portsmouth University on a project called "Step up to the Podium". Students were tasked with creating their own research project about the science behind sport and then presenting their findings.
Over the six weeks, all eight students have shown enthusiasm and commitment to the project. The final presentation was held at Portsmouth Football Club on Wednesday 3rd April. It was a tough audience with approximately one hundred people, but our students stood up proudly and explained their findings clearly and confidently. As they were about to finish there was then a technical problem as the video they had created wouldn't load, therefore leaving the presentation half done. They showed great resilience by going to the judges and explaining what was on their video and about the research that they had done rather than just leaving it.
The students were awarded 2nd place for their presentation and gifted a signed Pompey football shirt and football, which will be displayed at the College. As well as this, Year 9 student Levi won the Most Committed Award for his efforts. We would like to say well done to all the students for their hard work, dedication and commitment and thank you to Portsmouth University for running the project.