Facilities for hire
As a community school, we are committed to providing our neighbours with as many opportunities to access our facilities.  
We encourage our neighbours to visit us and see what the College does and how it works; we want to be more than 'just a school'. We consider ourselves to be part of your community and this page is designed to give you some information as to how we can benefit you.
The Campus
Our community is able to make use of our entire site. Our Sports Hall and Gymnasium host a number of local sports clubs and local netball leagues use our floodlit hard-court area.
We have a number of fully equipped computer suites, workshops and, as you might expect – classrooms. Our Performing Arts area has a theatre and a dance studio and our main hall benefits from full lighting setup and sound equipped stage, we also have an air-conditioned conference room with IT equipment, hot and cold refreshments and food. These facilities are available for hire subject to the satisfactory completion of our booking procedures.
The College has a range of excellent facilities that are available for hire.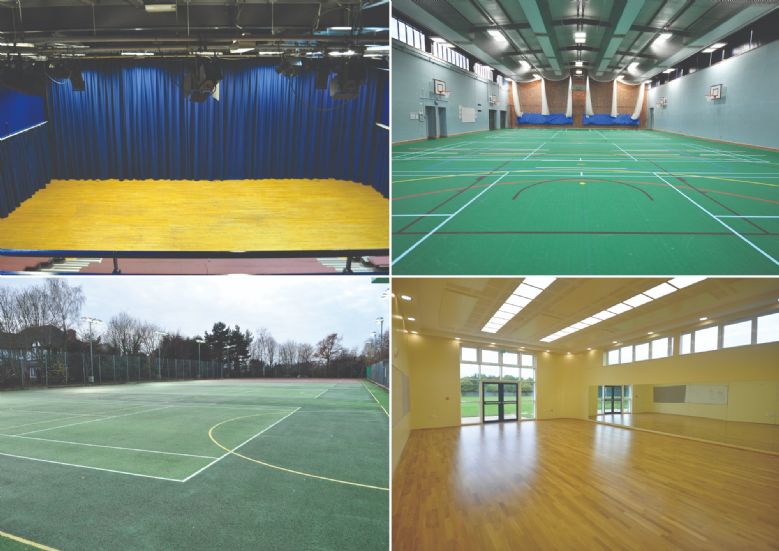 The Community Team
To book one of our facilities or to enquire about prices please contact Wendy Appleton (Facilities Manager) by telephoning 02392 251120 Extension 259 or by email on wendy.appleton@crookhorn.hants.sch.uk
Opening Times
All of our facilities are generally available for use at the following times.
| | | | | |
| --- | --- | --- | --- | --- |
| Weekdays | School Term-Time | 5.30pm | to | 9.00pm |
| Weekdays | Holiday Time | 9.00am | to | 4.00pm |
| Saturdays | | 9.30am | to | 5.00pm |
| Sundays | | 9.30am | to | 12.30pm |