Open Evening & college tours
At Crookhorn College we understand that the decision about which school your child chooses to attend in September is one of the biggest decisions you will make as a family. Therefore, we want to provide you with as much useful information as we can, to ensure you are able to make an informed decision.
"I would like to thank all the parents and Year 6 and Year 5 students who came to our Open Evening on Thursday 14th September 2023. We as a College had the most fantastic time meeting you and showing what our College community has to offer. I would also like to thank all the students and staff who made the night such a success. I am so proud of our College."
Our Open Evening took place on Thursday 14th September 2023
5.45pm - 8.30pm
Headteacher's talk at 6.00pm and 7.00pm with an opportunity to speak to the Headteacher and the Senior Leadership Team afterwards.
Our Open Evening is a very popular and key event for giving you the opportunity to immerse yourself in the unique ethos that makes Crookhorn stand out against other local secondary schools and has once again resulted in us being an oversubscribed College.
You will have the opportunity to hear from our Headteacher about her vision for education at Crookhorn and from our Head Boy / Head Girl about what it's like to be a student at the College.
The majority of your evening will, however, be spent visiting all areas of the College to find out about the full breadth of subjects and educational experiences that are on offer to your child if they attend Crookhorn.
Our prefects are on hand to give you a personalised tour, or you are more than welcome to follow our clear signage and work your way around the College at your own pace.
Booking a Tour of the college
Whilst Open Evening is a fantastic experience, we do also offer personalised tours during a normal College day - so that you can really see and understand what the learning experience at Crookhorn is all about.
We are delighted to be able to welcome families and pupils to come for a tour of the College from Wednesday 20th September 2023 until Thursday 19th October 2023. You will be able to book a tour on a Monday, Wednesday, Thursday or Friday at either 9.20am, 11.25am or 1.35pm. You will find a link to our booking system by clicking the button below. These tours can be booked by Year 6 families and one ticket will cover one family. If you did not manage to attend our Open Evening, this is a great chance for you to visit our College during the school day.
As well as our Open Event in September, we have a range of virtual Open Evening content that is available to view below. This includes our welcome video and link to our College Prospectus.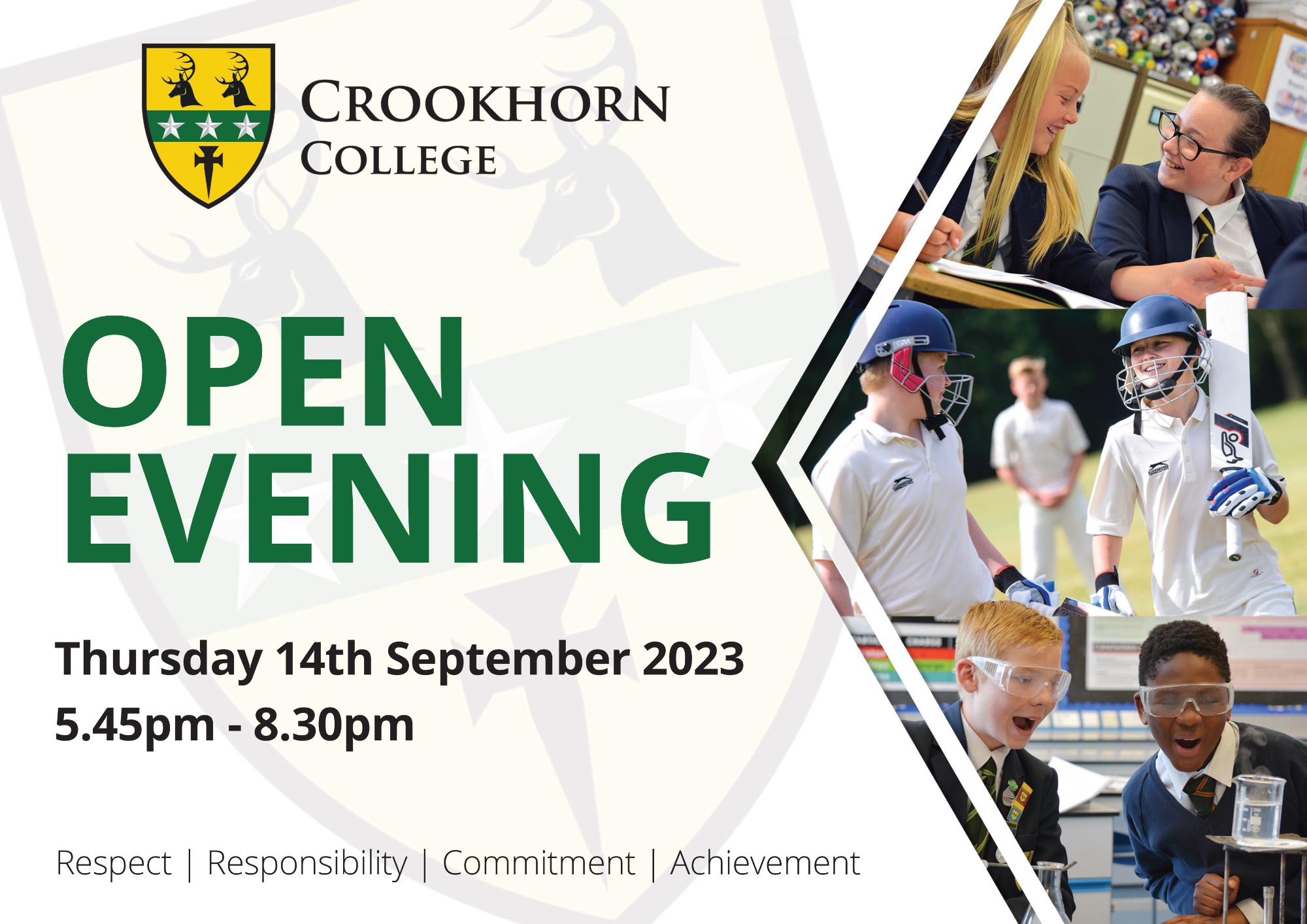 Crookhorn College welcome video

College Prospectus