Reading at Crookhorn
Reading Interventions
With reading being a fundamental skill, not only in English, but in all subjects, we have been working hard as a College to develop reading skills, whilst promoting a love of reading. This has come in many different strands, which are highlighted below.
The first has come in the form of our successful reading Intervention, run by Miss Woods. Once a week across a half-term, students from all across the College are given the opportunity to develop skills in decoding and comprehension within a nurturing environment, where students can also discuss the types of texts they enjoy and discover a new enjoyment in reading. 
So far this academic year, we have seen students make great gains in their reading age and ability, whilst also a bringing about a new buzz and excitement for reading, putting them in good stead academically, but also for later in life! Our students make an average of 18 months of reading progress over the half-term's intervention.
DEAR time is Drop Everything And Read time
We value literacy and reading for pleasure. DEAR time is a national initiative with the purpose to remind everyone how important reading is. Every day (apart from Tuesdays) students in Years 7, 8 and 9 have ten minutes to read their own material and settle down ready for the day. Tutors spend time with each student across two weeks to make sure they are familiar with their individual literacy skills, goals and interests. The library is available for students to find a book they genuinely enjoy and that matches their literacy comfort level. We also have access to an e-book platform, as well as a multitude of extracts and short stories hosted on our online learning platform, Itslearning, but use of technology is left to the tutor's discretion during DEAR time.
All Year 7 and 8 students are provided with a book to keep before Christmas each year to help provide them with reading materials. This is funded completely by the College. They get to choose their book from the offered selection, and can make use of the library swap shop to work their way through the whole list of offerings, or to find one that they enjoy more.
The 2023/4 selection is:

The College Reading Canon
What's it all about?
Read and review 16 (out of a possible 25) books from the College Reading Canon to earn rewards, prizes, and badges!
We have put together a selection of varied books that we strongly recommend all students engage with. They cover a huge variety of topics, styles, and genres that appeal to different age ranges. The students have all five years of their time at Crookhorn to complete this challenge and learn more about their own reading preferences. It's never too late, or too early, to start!
We also offer a book swap for any students who own a copy of any of the Reading Canon books. Once the student has finished their own copy, and submitted their review on Itslearning, they can come into the library and swap their (good condition) title for a different one of the 25. This means they can try different genres and really find out what they enjoy reading, without breaking the bank!
We had 70 students participate in the Canon from January to the end of June, submitting 133 successful reviews. There were 219 library loans of Canon titles and 15 students earned their first Reading Canon badge for completing four successful reviews!

As an extra incentive, we are also offering a ClassCharts reward alternative, if they would prefer to only read the e-book versions that we also have available, or if they end up with multiple copies.
How many will you read?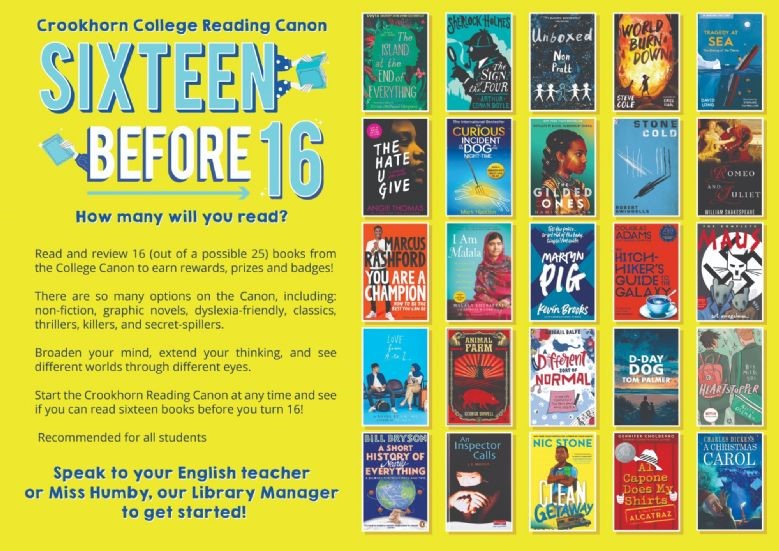 All the titles are linked to a school-recommended bookseller, LoveReading4Kids. They offer a discounted price and include the option to donate 25% of the cover price to Crookhorn to help our literacy drive. At the checkout, in the Support a School section, enter the school name or postcode (PO7 5UD) to choose this option.
Literacy For Parents
The ability to read fluently and write accurately and coherently is important to achieve success across all subjects. We want all of our students to be able to express themselves confidently and to have every opportunity going forward in their lives. We believe that promoting literacy is a whole college responsibility and not just that of the English department.
Some surprising facts:
Children who enjoy reading are three times more likely to have good mental well-being than children who don't enjoy it.
Studies have shown that those who read for pleasure have higher levels of self-esteem and a greater ability to cope with difficult situations. Reading for pleasure was also associated with better sleeping patterns.
Children who say they have a book of their own are six times more likely to read above the level expected for their age than their peers who don't own a book.
Fewer boys than girls said they enjoyed reading (45.6% vs. 54.9%) (National Literacy Trust, 2022 research reports).
More girls than boys said they talked about what they were reading with their family (41.5% vs. 33.1%) (National Literacy Trust, 2022 research reports).
Children who read books often at age 10 and more than once a week at age 16 gain higher results in maths, vocabulary, and spelling tests at age 16 than those who read less regularly (OECD, 2022).
Only 35% of 10-year-olds in England report that they like reading 'very much'. This lags behind countries like Russia (46%), Ireland (46%), New Zealand (44%), and Australia (43%) [McGrane et al. (2017) Progress in International Reading Literacy Study (PIRLS): National Report for England p. 102].
We invite you to join us in developing your child's literacy at home. There are some resources below to help you support them, and any questions can be sent to admin@crookhorn.hants.sch.uk
Parts of speech (attachment below)
Punctuation guide (attachment below)